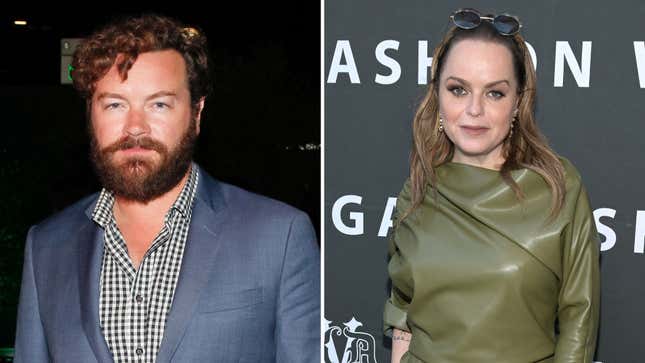 Actress Taryn Manning posted a long, rambling video defending convicted rapist and disgraced actor Danny Masterson. In the video posted to her Instagram grid early Monday (and deleted by the evening), Manning said people ragging on Masterson, a man who was accused of raping three women need to back off. "You humiliated somebody that I actually really loved and cared for," Manning said to her one million followers. "Everyone's humiliated me so bad, I'm all the way in with everything that I've always stood for that I was hiding secretly."
"And the fact that people wanna just tear us all down, like even with my friend Danny going to prison for 30 years," continued the actress, best known for her work on Orange Is The New Black and Sons of Anarchy. "Yeah, he made a mistake, but everyone just keep going, keep crucifying him, as if he's not already suffering."
Masterson, who was sentenced to 30 years to life in California state prison last week, was accused of sexual assault by three women between 2001 and 2003, at the height of his That '70s Show fame. Prosecutors won convictions on two of three rape counts in May as a part of a second trial, even as Masterson continued to deny the rape accusations, saying they were consensual encounters. Masterson will not be eligible for parole until age 77.
Masterson's former costars and current friends, spouses Mila Kunis and Ashton Kutcher, wrote long character letters in an attempt to persuade Judge Charlene Olmedo to give him an easier sentence. The act of mitigation letters is not uncommon in the criminal legal system (more than 50 people wrote supportive letters for Masterson), but it's wild to see two prominent celebrities who didn't understand (or whose teams' didn't understand) that their letters to the judge would eventually become public. On Friday, the pair released a tepid apology video, likely filmed next to their pool.
Meanwhile, Christina Ricci reminded everyone that people are complicated and just because someone is kind to you, doesn't mean that's everyone's experience. "People we know as 'awesome guys' can be predators and abusers," Ricci posted on Instagram stories. "It's tough to accept but we have to. If we say we support victims — women, children, men, boys — then we must be able to take this stance."

In August, Manning rocketed back to relevancy with an explicative-filled rant about the married man she dated. Eventually, that video was deleted and she posted the classic grid mea culpa. "Over the past few days, I've had some time to reflect on the situation I've been dealing with," Manning (or her publicist) wrote in a black-and-white text post in August. "I was deeply hurt and handled things on a public platform when I should've dealt with them quietly with the support of my close friends and family."
She went on to say she felt guilty for airing so much of her life in public because it doesn't affect only her. "I started a relationship with somebody who was married and told me he would leave his wife. In the end, I found out that wasn't possible," she said. "I know what I did was wrong, but the heart makes you do crazy things sometimes."

Manning brought that same energy to her rambling video defending Masterson, who again, was just sentenced to at least 30 years in prison. "There's no human on this planet that doesn't deserve to have the best life and to be happy and free because you are made in the image of the good Lord, made perfectly just the way you are," Manning said.
"He gets it, she added. "He got it. Leave him alone. Leave me alone."