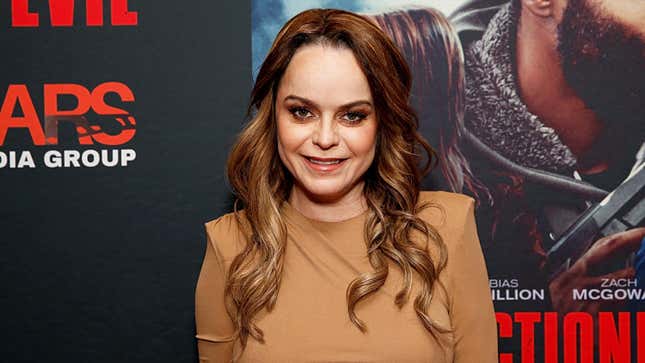 If you're going to have an affair with a married man and lick his ass, for god's sake, do not tell your 985k Instagram followers about it!! This seemingly obvious advice goes out to Orange Is the New Black actor Taryn Manning, who posted a video to Instagram doing exactly that, according to Page Six.
The since-deleted video features Manning recording from the side of a road, telling viewers she was "so rooted," she thought she might cause crashes if she didn't pull over the car and speak her truth.

"Every night, well, for about three nights in a row…I was licking [a man's] butthole because he liked it, and I didn't mind doing it! Is that weird? That is what demons do," Manning said.

Manning continued that she and the man had driven "all the way to Newport Beach," California—in a second video, she said the man was "fingerbanging" her the whole way—where she intended to buy him a boat, simply because she was "so in love" with him. She even brought along cash for a down payment, she said.

But Manning said she'd been unable to enjoy their love affair in peace because she "can't stand" the man's wife, who allegedly called the actress a "lunatic."

"'You get out of my life or I'll get an RO [restraining order] on you,'" Manning claims the wife told her. Manning's comeback was...specific: "No, I'll put your ass in jail. Anyway, so I've been licking your man's butthole for weeks on end because he likes it a lot and I do it to him and he comes to me and it happens."

By Monday night, however, Manning seemed to have run out of petulance (and energy to utter the word "butthole" so many times), and turned to a C-list celeb classic to express guilt and wrongdoing: a black square post with an apology in white text most likely drafted in the notes app.

"Over the past few days, I've had some time to reflect on the situation I've been dealing with," Manning (or her publicist) wrote. "I was deeply hurt and handled things on a public platform when I should've dealt with them quietly with the support of my close friends and family."

Manning went on to explain that she felt guilty for airing her dirty laundry online, and took accountability for her actions.

"I started a relationship with somebody who was married and told me he would leave his wife. In the end, I found out that wasn't possible," she said. "I know what I did was wrong, but the heart makes you do crazy things sometimes."

Can't relate to all the butthole licking discussion, but I can't disagree with heart wanting what it wants. In any case, it sounds like Manning is Going Through It—posting a video discussing ass eating is not typical actor behavior, at least not yet—so I hope she's taking care of herself.
---