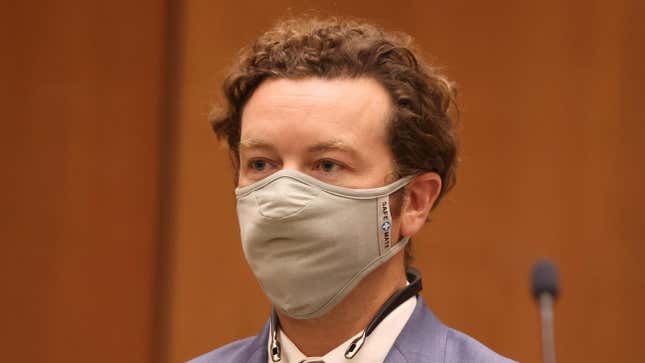 On Tuesday, prosecutors told a Los Angeles court they will once again pursue a trial against accused rapist and That '70s Show star Danny Masterson, following a mistrial in late November. Masterson is alleged to have raped three women between 2001 and 2003, at the height of his fame.
Is Emmy Rossum Old Enough To Play Tom Holland's Mom?
"Not giving these victims another chance with a jury who can sit there and consider all of the evidence—win, lose or draw–that would be an injustice," Deputy District Attorney Reinhold Mueller said.
Masterson's accusers, identified in court as Jane Does 1, 2, and 3 alleged that the actor violently raped them in his Hollywood Hills home. Given that all of the women—like Masterson—were Scientologists, the controversial church played a notable role in the previous proceedings. While charges stemmed only from the first three accusers' assaults, Judge Charlaine Olmedo allowed for a fourth to testify midway through the trial to provide support for the others' testimony outside the context of Scientology, as she wasn't a member. Like Masterson's other accusers, the woman told the court that he raped her while she was intoxicated at his home in 1996.
"It appears there are many other witnesses the people could choose to call or different arguments the people could choose to make," Olmedo, who denied a defense request to dismiss the case, said on Tuesday. "A different outcome at a retrial is at least a possibility."
Meanwhile, Masterson's defense attorney, Phillip Cohen, argued a different jury is likely to come up with the same result, if not an acquittal.
"It's not that things were ignored that Mr. Mueller thinks were important or significant," Cohen told the court. "It's that things were discussed and not believed to be important to decision-making for some of the jurors."

Even after nearly two months at trial and weeks of deliberation, the jury was reportedly "hopelessly deadlocked" and ultimately, unable to reach a verdict.
"We are pleased that Danny Masterson will not be permitted to simply escape criminal accountability," Jane Doe 2, Jane Doe 3, and Jane Doe 3's husband said in a joint statement via their attorneys. "Despite suffering years of intimidation and harassment, we are completely committed to participating in the next criminal trial to the extent requested by prosecutors and again testifying about Mr. Masterson's depraved actions."
Masterson, however, declined to comment on the ruling. Olmedo set March 29 for jury selection.