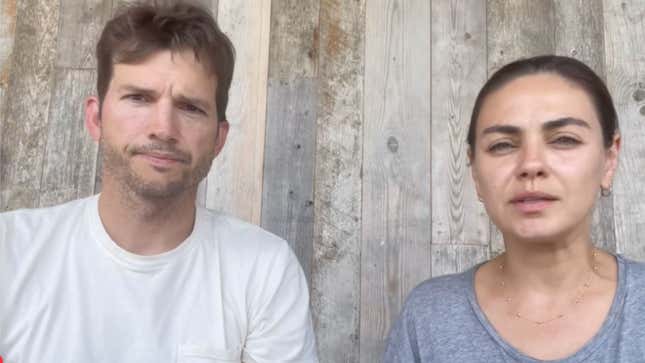 If you're into listening to celebrities attempt to explain away dubious (at best!) behavior, you must have been in pig heaven this weekend. On Saturday Ashton Kutcher and Mila Kunis released a brief video on Kutcher's Instagram attempting to explain why they wrote character letters for their former That '70s Show co-star and convicted rapist Danny Masterson, who was sentenced to 30 years to life Thursday. "We have spent countless hours together with our kids and he is among few people that I would trust to be alone with my son and daughter," read part of Kutcher's letter. "I wholeheartedly vouch for Danny Masterson's exceptional character and the tremendous positive influence he has had on me and the people around him," is how Kunis ended. Naturally, the letters sparked a massive social-media backlash.
The video plays more like an excuse than an apology—it takes more than 45 seconds to get to the word "sorry." The couple acknowledges the backlash and leads with vague statements that, per their letters, seem truer in principle than practice. "We support victims. We have done this historically through our work and will continue to do so in the future," says Kunis, sounding canned. Kutcher explains that the letters came via a request from Masterson's family that would "represent the person that we knew for 25 years so that the judge could take that into full consideration relative to the sentencing." Kunis says the letters "were not written to question the legitimacy of the judicial system or the validity of the jury's ruling," and Kutcher follows that with a very sorry-that-you-saw-that moment of, "They were intended for the judge to read, and not to undermine the testimony of the victims, or to retraumatize them in any way. We would never want to do that. And we're sorry if that has taken place."
Masterson accuser Chrissie Carnell Bixler, who's been one of the most vocal high-profile critics of Kutcher and Kunis, wrote in an Instagram story on Friday directed at Kutcher that "you're just as sick as your 'mentor,'" meaning Masterson. On Saturday, she posted several clips to her stories featuring Kutcher and Kunis, including one from a 2003 episode of Punk'd in which Kutcher referred to Hilary Duff as "one of the girls that we're all waiting for to turn 18—along with the Olsen twins."
---
Also, Joe Jonas has something to say!!!

After so much coverage of his pending divorce with Sophie Turner that seemingly wants to spin the situation to blame her (and who could possibly be providing all this info???), Jonas vaguely addressed the controversy at Saturday's Jonas Brothers concert in Los Angeles. "It's been a crazy week," he said. "I just wanna say, look – if you don't hear it from these lips, don't believe it. OK?"
Mmmmk!
---
I read this headline—"Sia serenades Janet Jackson, more stars during surprise performance at Christian Siriano's NYFW show"—and I thought, "Did Janet Jackson consent to that???"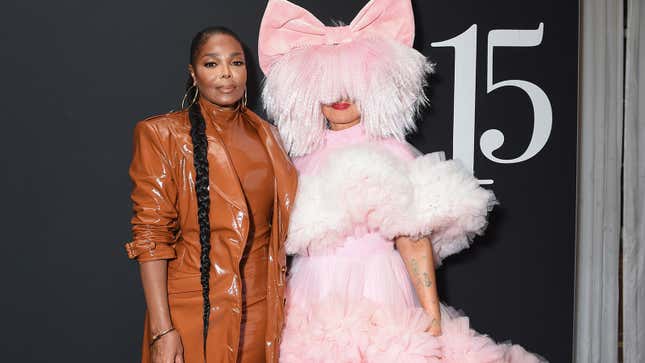 And then I saw the pictures.
---