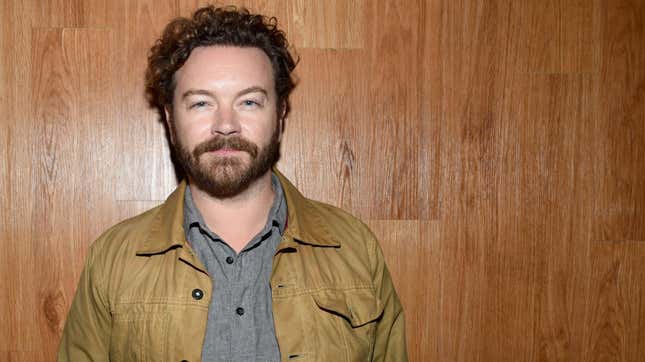 On Thursday, Danny Masterson was sentenced to 30 years to life in California state prison. The That '70s Show actor and prominent Scientologist was accused of brutally sexually assaulting three women—all former members of the controversial "church"—between 2001 and 2003, at the height of his fame. In May, he was convicted on two out of three counts of rape and immediately taken to jail, where he's remained since. He will not be eligible for parole until he is 77 years old.
"Mr. Masterson, you are not the victim here," Judge Charlene Olmedo said before reading Masterson's sentence on Thursday, according to Law and Crime reporter Meghan Cuniff. "Your actions 20 years ago took away another person's choice and voice. Your actions 20 years ago today were criminal, and that's why you are here." Masterson has continued to deny the accusations and said all the encounters were consensual.
Following a mistrial in November 2022, in which a jury was "hopelessly deadlocked," Olmedo ruled that Masterson would be retried in Los Angeles court in April 2023.
"It appears there are many other witnesses the people could choose to call or different arguments the people could choose to make," Olmedo, who denied a defense request to dismiss the case, said in January. "A different outcome at a retrial is at least a possibility." By May, following eight days of jury deliberations in said retrial, Masterson was found guilty on two counts of forcible rape.
On Thursday, Olmedo went on to tell Masterson that she's aware he's likely wondering "how you can be convicted of each charge of sexual incident occurring 20 years ago" involving "a woman who you believe is disgruntled and has a vendetta against you." However, she referenced the number of people and amount of evidence that corroborated the testimony of all three survivors.

"You were not convicted based on rumors, innuendo, gossip and speculation," Olmedo said. "You were convicted based on evidence that 12 people in the community found to be credible… You were convicted because each of the victims reported the rapes to someone shortly after the rapes occurred."
At the sentencing hearing, all of Masterson's survivors were able to read a victim impact statement aloud."You relish in hurting women. It is your addiction," one survivor told Masterson. "It is without question your favorite thing to do."
Ultimately, the statement concluded with an offering of forgiveness: "Life is precious and fragile. Find your heart… learn something. Read books. Listen to the brightness of nothing, and get well. I forgive you."