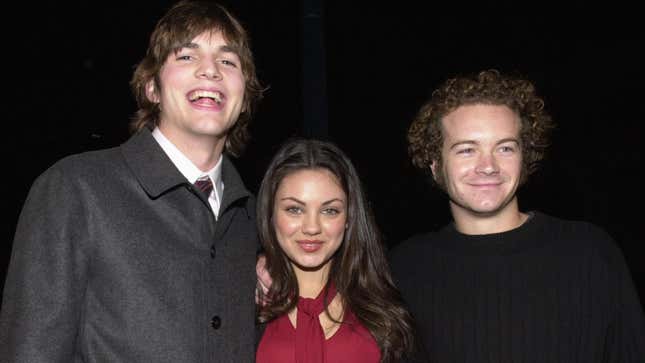 Over 50 people wrote letters to Judge Charlene Olmedo in support of Danny Masterson, who was convicted on two of three counts of rape in May, before she sentenced him to 30-years-to-life in prison Thursday.
Among the letters, which include declarations of Masterson's supposed decency from friends, family, and a number of famous names, were two sent by his former That '70s Show co-stars Ashton Kutcher and Mila Kunis. Reprinted in full by journalist Tony Ortega, they warrant some serious scrutiny.
Kutcher began his statement by referring to Masterson as a "friend" and "role model" for the last 25 years, citing their shared memories of traveling the world and raising their daughters together. He then went on to credit Masterson's steadfast commitment to a substance-free life, writing: "I attribute not falling into the typical Hollywood life of drugs directly to Danny. Any time that we were to meet someone or interact with someone who was on drugs, or did drugs, he made it clear that that wouldn't be a good person to be friends with. I am grateful to him for that positive peer pressure." I'll note here that the prosecution in both of Masterson's rape trials repeatedly asserted that Masterson drugged his accusers. (Masterson has continued to deny the accusations of rape and said all the encounters were consensual.)
Kutcher also commended Masterson's dedication to 9/11 firefighters and their families: "Danny had his daughter a year before I had mine. He set a standard of being a hands on dad," he wrote. "We have spent countless hours together with our kids and he is among few people that I would trust to be alone with my son and daughter." That's some disturbingly high praise of a man who was convicted of violently raping two women, both of whom were within Masterson's circle of church friends. (The jury did not reach a verdict on the rape accusation made by a third woman, a former girlfriend of Masterson's.)
Kutcher concluded by asserting: "I do not believe he is an ongoing harm to society and having his daughter raised without a present father would a tertiary injustice in and of itself."

Kunis' letter is just as extolling. Masterson, she said, is a "dear friend," "confidant," and, "above all, an outstanding older brother figure to me." Similar to her husband, Kunis then goes on to express her gratitude to Masterson for encouraging her to avoid all substances and notes his supposedly stellar parenting.
"Witnessing his interactions with his daughter has been heartwarming and enlightening," she wrote. "He prioritizes his family, education, and happiness above all else, demonstrating his unwavering commitment to being a loving and responsible parent. As a father, he leads by example, instilling in her values that reflect integrity, compassion, and respect for others."
Finally, Kunis said Masterson has had a "transformative impact" on her life, and she can attest to his "warmth, humor, and positive outlook."
"I wholeheartedly vouch for Danny Masterson's exceptional character and the tremendous positive influence he has had on me and the people around him," she finished.
Previously, Kutcher and Kunis have remained largely mum on Masterson's case in the press, with the exception of the former's January 2023 Esquire interview. Of the outcome of Masterson's retrial, Kutcher told the magazine: "I'm not the judge. I'm not the jury. I'm not the DA. I'm not the victim. And I'm not the accused. And so, in that case, I don't have a space to comment. I just don't know."
Well, if these letters are any indication, it sounds an awful lot like he and Kunis figured out just what to say.