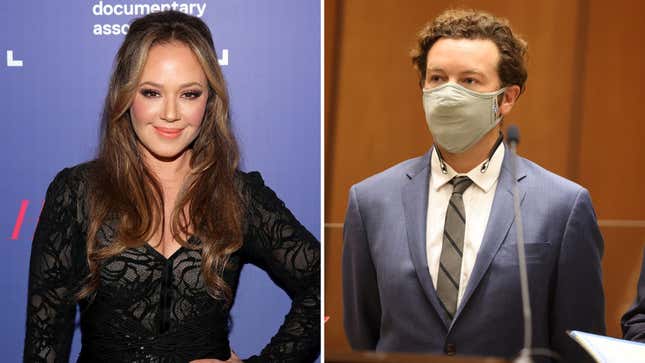 It's been less than one week since longtime Scientologist and alleged rapist Danny Masterson returned to Los Angeles court for a retrial, and Leah Remini, actress and well-documented anti-Scientology activist, is already center stage in the proceedings.
Taylor Lautner Doesn't Even Remember Saying 'Bella! Where the Hell Have You Been Loca?'
As Masterson's defense attorney, Philip Cohen, clashed with Judge Charlaine Olmedo on Monday, Remini—surrounded by "an entourage," per Deadline—was present for the proceedings. While she was not a mainstay in Masterson's first trial last year, her recent attendance has become an issue for his defense. Remini tweeted Monday night: "Before opening arguments began, Danny's Scientology-controlled lawyers tried to get the judge to throw me out of the courtroom based on the false premise that they had planned to call me as a witness in the trial."
"First, I am not on the witness list for the prosecution. Second, this shows how threatened Scientology is by the truth," she continued.
Deadline, who was present in the courtroom, reported that Masterson's defense unsuccessfully sought to bar Remini from the proceedings, though she's a potential witness for the defense. Shawn Holley, another attorney for Masterson, told the outlet that Remini was a "percipient witness to certain conversations."
Though Remini's representatives did not immediately return Jezebel's request for comment, Scientology spokesperson Karin Pouw said in an email:
"If you are going to write about Leah Remini, you can't do it without pointing out her continuous unwavering support for the rapist Paul Haggis and her continuous efforts to shame his victims. Isn't it obvious that for Remini this isn't about justice, it's about finding every way she can to exercise her bigotry against Scientology through hate?"
"It will be journalistic malpractice to write an article about Remini without pointing that inconsistency out," Pouw concluded.
In November 2022, as the acclaimed director and ex-Scientologist was on trial for rape, Remini testified on his behalf, claiming that the lawsuit filed against him by his former publicist, Haleigh Briest, was fabricated by the institution in retaliation for his departure in 2009.
"The purpose of Scientology lawsuits is just to destroy your life," Remini told the court via video last year. "Men and women who have been raped absolutely deserve justice. But in this case, it's absolutely Paul who is the victim here."
Meanwhile, the same sexual assault allegations litigated in Masterson's 2022 trial are once again being heard, despite a deadlocked jury last year. Given that all three Jane Does named in the proceedings are former Scientologists, the institution was mentioned often, despite the defense's attempts to exclude it. This time, however, Judge Olmedo has already advised against anything that would pose a distraction for the disturbing accusations.
"The court is not going to allow the parties to go into the weeds," she instructed the defense and the prosecution this week. Cohen has since suggested that the court refer to the Jane Does as "accusers" as opposed to victims.
"In 20 years on the court, I have never said that, I never would," Olmedo replied in her rejection of the ask.
Masterson is currently free on bail for $3.3 million and faces a maximum sentence of 45 years to life if convicted. Per Deadline, the retrial is expected to last more than a month.