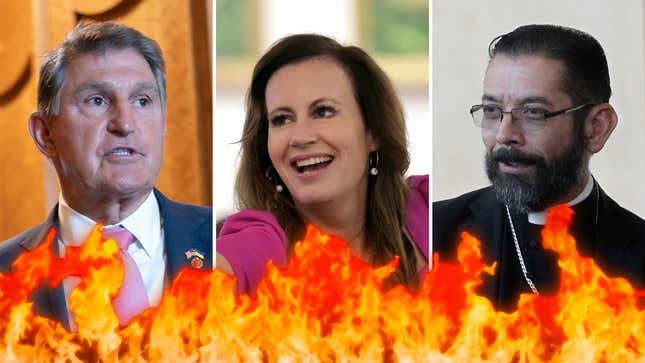 I am so very tired of everything this week. There's yet another Republican candidate for president, Trump got arrested again, and horrific news stories are popping up like a game of whack-a-mole. It's hard to keep up, but here I am to give you the bullet points.
Pro-Abortion Protesters in NYC Have Two Words for SCOTUS
Here is a non-exhaustive list of Sue's Fuck Yous. I'm sure I missed a few bad people doing bad things, so please address them in the comments!
---
Fuck you to Republican presidential candidate Vivek Ramaswamy for calling on the rest of the field to commit to pardoning Trump if he's convicted of stealing classified documents.

Fuck you to the U.S. Conference of Catholic Bishops for voting to start the process of revising their religious directives for Catholic hospitals in order to ban gender-affirming care.
Fuck you to Wisconsin Republicans for voting at 2:30 am to end childcare subsidies. Very cool.
Fuck you to Florida Gov. Ron DeSantis (R) for saying that the Trump-appointed Justices Neil Gorsuch, Brett Kavanaugh, and Amy Coney Barrett aren't conservative enough for him and that, if elected, he'd want to nominate more people like the disgusting brothers, Clarence Thomas and Samuel Alito.

Fuck you to two Alabama Republican lawmakers for claiming that the Alabama Department of Archives and History is promoting a "liberal political LGBTQ agenda."
Fuck you to House Republicans for trying to sneak a ban on telemedicine abortion into an FDA funding bill.
Fuck you to Texas Gov. Greg Abbott (R) for expanding a ban on transgender athletes playing sports in high school to now include public colleges and universities.
Fuck you for the billionth time to North Carolina Rep. Tricia Cotham (R) for saying that she never had an abortion, despite making a big speech about it, and claiming it was a regular miscarriage.
Fuck you to the Florida Department of Education for trying to bully the College Board into removing discussions of "gender and sexual orientation" from its Advanced Placement (AP) psychology course. The College Board said it won't change any courses but doesn't know if the state will ban them in retaliation.
Fuck you to former New York City mayor and 2020 presidential candidate (lol) Bill DeBlasio for appearing to blame his notorious dropping of a groundhog that later died on his advance team.
Fuck you to actress Cheryl Hines for enabling her anti-vaxxer husband and Democractic presidential candidate Robert F. Kennedy Jr. by spouting off some vaccine-skeptic nonsense in a new profile.
And, finally, fuck you to Sen. Joe Manchin (D-W.Va.) for voting not to confirm ACLU voting rights lawyer Dale Ho as a federal judge, saying he's "extreme left." The Senate confirmed Ho anyway, but what the hell, man?
---
To (almost) everyone else, have a blissful weekend.