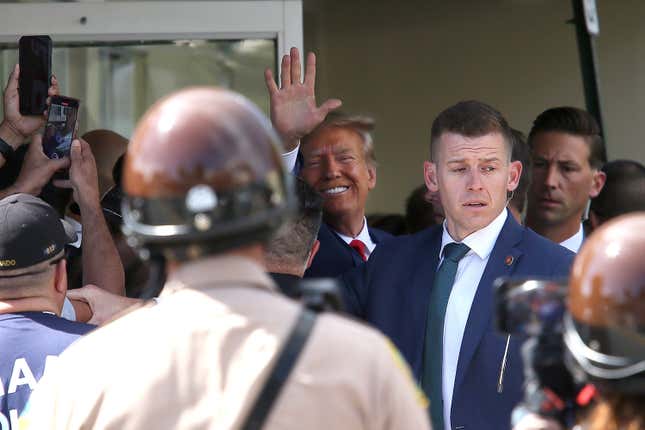 It's been quite a week for former President Donald Trump: After pleading not guilty Tuesday to 37 federal felony charges related to his mishandling of classified documents and finding out he's getting sued for more money by the woman who accused him of rape, he turned 77 on Wednesday. And for the big guy's birthday, the Department of Justice gifted him a probation officer.
Ted Cruz Won't Commit to Pleasuring a Man to End World Hunger
CNN spoke to former U.S. Attorney for the Southern District of Florida, Marcos Jimenez, who explained the arrest, booking, and arraignment process in beautiful detail. Jimenez said Trump will have to communicate with the probation officer and let them into his house.
Here are some excerpts from the live interview:
Kaitlan Collins: We know he'll get fingerprinted. You said the conditions of the release are very interesting. Why do you think so?

Jimenez: Well, every defendant that's charged is released on supervised release. So, there are travel restrictions, there are restrictions on employment. There are restrictions on where you can live. You have to tell your probation officer.

You have to allow the probation officer to visit you at home. You can't have a gun—can't possess a gun. You can't talk to someone who's a convicted felon. You can't be a federal informant. There are standard conditions of supervised release that will apply.

...

Jimenez: And I'm sure it's been talked about a lot, but the conditions of his release will be set. They'll plead not guilty. And then he'll go home. And after that, he'll be assigned a probation officer. And he will have to deal with that probation officer in whatever conditions of release are set by the judge.
I'm now imagining Trump walking around Mar-a-Lago and showing the P.O. old love letters from his boyfriend, Kim Jong Un. But there's a catch, because, of course there is: Trump is running for president, which involves travel, so the judge here may allow him to move around more freely than other federal defendants. Here's Jimenez again:
Anderson Cooper: Is it possible that the—on conditions for his release that he could be barred from leaving the country? Is that possible?

Jimenez: Yes. The standard condition of release is that you cannot travel outside of the district without the court's permission and without the probation officer's permission. Typically, what happens is, if a defendant lives elsewhere or has to appear in court elsewhere, travel will be permitted to those particular districts. Now, this is an a—an incredibly different situation because you have a person who's running for office. And he's going to be in every district, potentially, in this country. So, they're going to have to set extremely broad conditions for this release, which is unprecedented.
We'll update this post if and when more information becomes available about the conditions for Trump's release and how he seems to be getting along with his new chaperone.