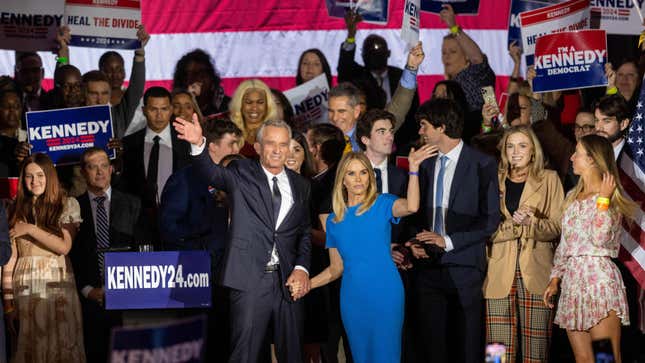 Curb Your Enthusiasm star Cheryl Hines is (sadly) married to anti-vaxxer and presidential candidate Robert F. Kennedy Jr.—a man who's made disgusting comments saying that anti-vaxxers have it worse than Anne Frank did during the Holocaust. (Yes, another beloved actor married to an anti-vaxxer... You know what you did, James Van Der Beek.) But until now, she's never publicly commented on Kennedy's dangerous anti-science views.
Is Emmy Rossum Old Enough To Play Tom Holland's Mom?
In a New York Times profile published over the weekend, complete with a glam photoshoot, Hines said:

"I see both sides of the vaccine situation... There's one side that feels scared if they don't get the vaccine, and there's the side that feels scared if they do get the vaccine, because they're not sure if the vaccine is safe. And I understand that."


"So if Bobby is standing up and saying, 'Well, are we sure that they're safe and every vaccine has been tested properly?' That doesn't seem too much to ask," she continued. "That seems like the right question to be asking." Ms. Hines tried to dodge several questions about her views on vaccines, including "Do you think vaccines are dangerous for children?," eventually answering in a manner that didn't criticize her husband or reveal much about her own opinion.
Hines had her own daughter vaccinated as a child and appeared in a 2006 vaccine PSA—the same year she was introduced to Kennedy by Curb creator Larry David. (Kennedy told the Times that, so far in his presidential run, which he announced in April, he's felt "a lot of support and love from most of her friends, including Larry." David commented via text: "Yes love and support, but I'm not 'supporting' him.")
By backing up Kennedy's "just asking questions" position, Hines is proving that she either shares his heavily disproven views, or will simply regurgitate them to help his political aspirations—and, frankly, either is vile. The Times headline suggests that Hines is merely "along for the ride" of the campaign, but she's both an adult and a public figure. She has much more agency than that—so much so that she could have put the kibosh on Kennedy's run, but didn't:
"It was definitely a discussion," Ms. Hines said, "because he said, 'If you don't want me to do it, I won't.'" She ultimately agreed.
When asked by the Times, Kennedy also refuses to say if he'd reject an endorsement from conspiracy-monger Alex Jones and reveals that he wants to go on Steve Bannon's show, but Hines won't allow it.
When asked twice if he would reject an endorsement from Mr. Jones, who lost a $1 billion lawsuit for repeatedly saying the 2012 Sandy Hook shooting that killed 20 first graders and six educators in Newtown, Conn., was a government hoax, Mr. Kennedy did not respond. Mr. Kennedy said that he would "love to go on Steve Bannon's show, but Cheryl just can't bear that," so he has not.
Clearly, Hines is not some passive observer here; Kennedy told the Times that he views his wife as integral to his success. "I think ultimately if I get elected, Cheryl will have played a huge role in that," he said. "She's an enormous asset to me, and I don't think we've really unveiled her in her true power yet."

However, Kennedy also reveals that he knows their partnership hasn't done her reputation any favors: He apparently suggested issuing a phony press release claiming they'd separated because he wanted to "protect" her.
Kennedy is running as a Democrat—despite doing many interviews on Breitbart and getting a book blurb from Tucker Carlson—and some voters may merely recognize his last name without knowing about his dangerous views. In any case, it's not clear yet if his candidacy will increase the chances that Biden loses to a Republican, but it's dangerous for platforming anti-vaccine sentiment, and Cheryl Hines has revealed herself to be an active and willing participant in that project.