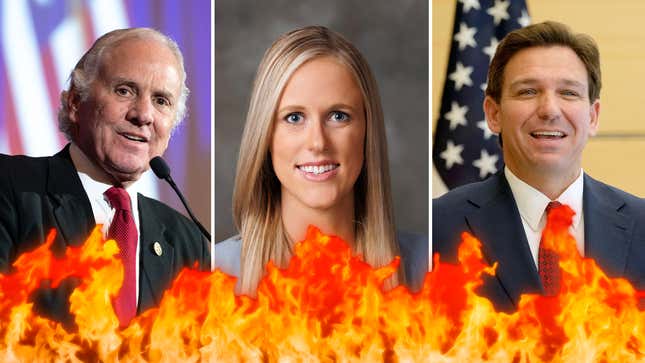 Here we are again at the end of another terrible week in these United States, in which so many awful things happened that it can be hard to keep track of the top lines. As usual, I'm here to provide you with the lowlights.
Pro-Abortion Protesters in NYC Have Two Words for SCOTUS
Below is a non-exhaustive list of Sue's Fuck Yous, now adorned with flames. I'm sure I missed a few bad people doing bad things, so please address them in the comments!
---
Fuck you to Target for caving to threats from anti-LGBTQ activists and removing certain Pride Month merchandise.
Fuck you to South Carolina Republicans for jamming through a new six-week abortion ban after the State Supreme Court struck down a different one in January. The only thing that's changed is the composition of the court.

Fuck you to Florida Gov. Ron DeSantis (R) for creating a cop-recruitment program that's paid bonuses of nearly $7,000 to officers with histories of using excessive force and some who've been charged with domestic battery and murder.
Fuck you again to DeSantis for aligning himself with the transphobic and creepy pro-natalist Elon Musk to make his presidential announcement on Twitter Spaces. (The only saving grace is that it was a raging disaster.)
Fuck you to the Russian court that extended American journalist Evan Gershkovich's pretrial detention by another three months.
Fuck you to Texas Attorney General Ken Paxton (R) for saying that the 20 articles of impeachment he's facing are the result of "corrupted politicians in the Texas House." Bruh, if your own party is saying you need to go, you need to go. (The investigation began after Paxton requested $3.3 million in state funds to settle a lawsuit brought by former employees who accused him of retaliation.)
Fuck you to Rep. Lauren Boebert (R-Colo.) for complaining this week that the price of birth control is what led to her third of four children, despite her actively working against making contraception more affordable and accessible to low-income and uninsured people.
Fuck you to Nebraska State Sen. Julie Slama (R) for leaving the hospital where she was being treated for a rare but serious form of morning sickness in order to vote for a combination gender-affirming care and abortion ban, and then lamenting that a reporter violated her privacy by taking a photo of her.
Fuck you to Florida woman Daily Salinas for complaining to a Miami school about Amanda Gorman's poem "The Hill We Climb" and other books, which resulted in the school banning them for students under grade 6.
Fuck you to Texas billionaire Harlan Crow for having his lawyers send a letter to Congress claiming they can't investigate his "friendship" with Supreme Court Justice Clarence Thomas.
And, finally, fuck you to Republican Presidential candidate Nikki Haley for continuing to repeat her lie that a national abortion ban wouldn't happen because it couldn't get 60 votes in the Senate—as if Sen. Mitch McConnell (fuck him too) would let the pesky filibuster get in the way of conservatives' wish list. Actually, double fuck you to Haley for continuing to make the same gross transphobic joke about Dylan Mulvaney.
---
To (almost) everyone else, please have a lovely long weekend.