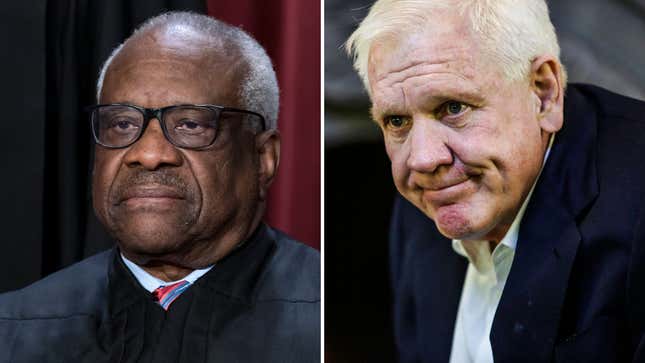 Billionaire Harlan Crow—the not-so-mysterious benefactor of Supreme Court Justice Clarence Thomas—thinks Congress should stop pursuing any kind of ethics investigation into Crow's relationship with Thomas because Congress does not have "the authority to investigate Mr. Crow's personal friendship with Justice Clarence Thomas," according to a seven-page letter his attorneys sent to the Senate Judiciary Committee on Monday. And don't worry, Gibson, Dunn & Crutcher LLP attorney Michael D. Bopp says he's given the matter "careful consideration."

Anita Hill, Like Many of Us, Thinks Clarence Thomas is Full of Sh*t
"The Committee has not identified a valid legislative purpose for its investigation and is not authorized to conduct an ethics investigation of a Supreme Court Justice," the letter reads.

Bopp (hilarious name, as an aside) wrote to the Senate in response to the Judiciary Committee asking detailed questions about possible gifts or payments made to Thomas and his family. Reports over the past two months about Crow's lavish gifts to Thomas and his family have come under great scrutiny, as the right-wing justice did not disclose any of the reported gifts from the GOP megadonor who collects Hitler memorabilia.
The seven pages haven't convinced Senate Majority Whip Dick Durbin, who heads the Judiciary Committee. "Harlan Crow believes the secrecy of his lavish gifts to Justice Thomas is more important than the reputation of the highest court of law in this land," Durbin said in a statement to CNN. "He is wrong."

In case you haven't been able to remember the long list of Crow/Thomas overlaps, let me refresh your memory: Crow paid private school tuition for Thomas' grand-nephew, Mark Martin, who Thomas has said he and wife Ginni Thomas were "raising him as a son." Thomas also accepted hundreds of thousands of dollars in travel (both overseas and domestic) for himself and his family from Crow.
"The Committee's stated purpose of crafting new ethics guidelines for the Supreme Court is inconsistent with its actions and the circumstances in which this investigation was launched, all of which suggest that the Committee is targeting Justice Thomas for special and unwarranted opprobrium," the letter from Crow's lawyer reads.
The Supreme Court, despite what Bopp says, isn't an untouchable entity and certainly can be investigated, Durbin correctly noted. "Mr. Crow's letter relies on a separation of powers defense when Mr. Crow does not work, and has never worked, for the Supreme Court," he said in a statement.
While Crow declined to talk with the congressional committee, he did give an exclusive interview to The Atlantic this week wherein he denied any impropriety. "I have never, nor would I ever, think about talking about matters that relate to the judiciary with Justice Clarence Thomas," Crow said, adding they talk about what "friends talk about." He further clarified by email that "work-related issues" have come up in their conversations.
The committee can still subpoena Crow if he continues to refuse to answer questions.
While it may seem like Thomas is the one being targeted, there are, of course, decades of Supreme Court ethics scandals to look back on: My colleague Susan Rinkunas compiled just a few stemming from the justices currently serving on the highest court. Imagine if we included those who have left or are dead. Say, Antonin Scalia?
I can't imagine this letter sways Durbin and the Democrats running the Judiciary Committee too much.