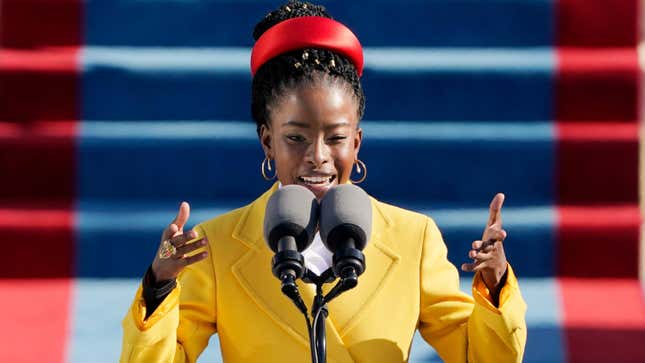 The original poem Amanda Gorman famously recited at President Joe Biden's inauguration, "The Hill We Climb," is among a handful of works being banned for students of a certain age at a Miami elementary school after a parent complained about "indirect hate messages," the Miami Herald reported.
Daily Salinas, a mother of two students at at Bob Graham Education Center, a K-8 school in Miami Lakes, also challenged The ABCs of Black History, Cuban Kids, Countries in the News Cuba, and Love to Langston, claiming those books and Gorman's poem amounted to "critical race theory." Salinas happens to be a member of the far-right activist group Moms for Liberty and has reportedly attended Proud Boys rallies—but the school capitulated based on her single complaint and restricted the titles she didn't like to grades six and above, denying access to the elementary students.
Gorman posted a long statement to Twitter on Tuesday evening saying she's "gutted" by the news and by this alarming wave of book bans in general. "And let's be clear," she wrote. "Most of the forbidden works are by authors who have struggled for generations to get on bookshelves. The majority of these censored works are by queer or non-white voices."
Conservatives have been on a book-banning rampage the past few years, most notably in Texas and Florida. Jezebel wrote in February about the Florida teachers who were emptying out their bookshelves to avoid felony charges amid the state's anti-intellectualism campaign; one teacher was fired for posting a viral video of his empty bookshelf. The state has a whole book-banning council packed with right-wing MAGA moms.
The relative few who want to ban books have an outsized impact: More than two-thirds of requests to ban books are filed by "serial filers," or those who file 10 or more such complaints, a Washington Post analysis of PEN America data found—and many such complainers are supported by groups like Moms for Liberty.
This all boils down to the fact that young people aren't voting for Republicans, which they blame on "woke indoctrination" in schools, so one of their strategies is to try to keep kids as ignorant and small-minded as possible. The irony is that this is exactly what Gorman's poem is about.