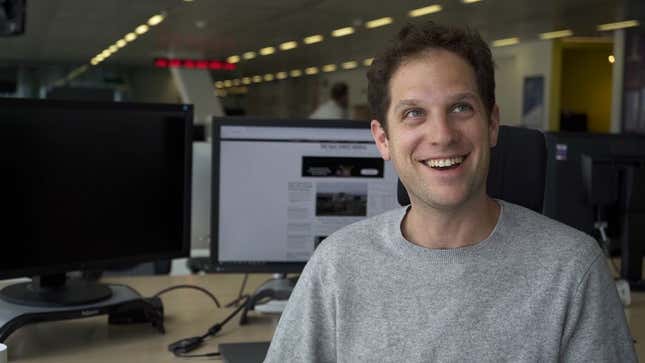 Wednesday marks five weeks since my friend Evan Gershkovich, a Moscow correspondent for the Wall Street Journal, was arrested in Russia. It is also World Press Freedom Day.
GOP Congressman Spent His Sunday Daring Biden to 'Come and Get' His Guns
Evan, who was accredited as a journalist by the Russian government, was detained by the FSB—the successor agency to the KGB—while reporting in Yekaterinburg, a large city east of the Ural Mountains. He stands accused of espionage, something his bosses and the U.S. government have vehemently denied.
Though Russia has detained multiple foreigners in recent years—including WNBA star Brittney Griner, who was freed in December in exchange for international arms dealer Viktor Bout—Evan is the first journalist to be arrested since the fall of the Soviet Union, marking a significant escalation in Russia's various conflicts with the West; it's been reported that Russian President Vladimir Putin personally approved Evan's arrest. (The Kremlin has cracked down on media outlets that offer perspectives other than Kremlin propaganda but until now, they'd avoided targeting foreign journalists in this way.)
Within two weeks of his arrest, the American government deemed Evan wrongfully detained, a legal designation that funneled his case to the Office of the Special Presidential Envoy for Hostage Affairs. When Ambassador Lynne Tracy visited him three weeks after his arrest, she said he was in "good health and remains strong," but Russia has limited his contact with diplomats since.
On April 18, Evan appeared in Russian court for the first time. It was deeply unsettling to see him standing locked in a glass box, but he stared down the cameras, smiled a bit, and stooped with his arms crossed; he at least seemed very much like himself. Unsurprisingly, the appeal over his detention was denied.
---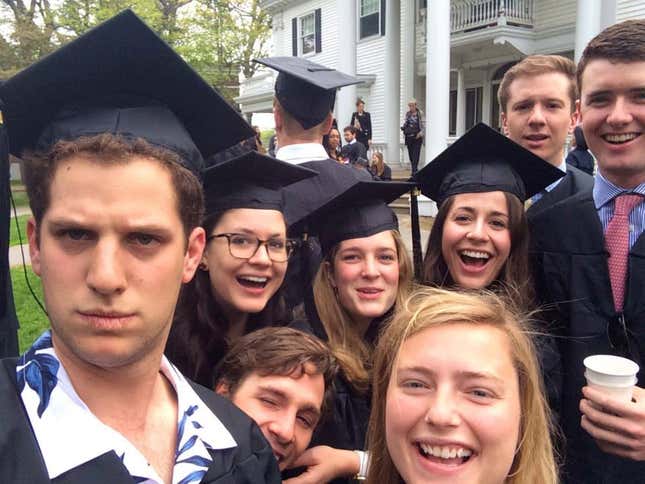 I met Evan in the fall of 2010 at Bowdoin College in Maine; it's a small school where you might not know everyone but you certainly recognize most of the faces you pass on the quad. Sophomore year, we lived in a big house owned by the college with a dozen other friends and threw very fun parties. By senior year, we were (a bit) more thoughtful about the future and Evan doubled down on the pull he felt to be a writer. I edited him for the college paper, and he was always willing to sit down and watch me red-pen his drafts—an editor's dream from the get-go. Within a few years, our DMs and emails (which I've been revisiting in the past few weeks) had filled up with newsroom gossip, cover letter consults, and naive advice about navigating the journalism industry.
Now, behind the scenes, a group of Evan's friends—from his high school in Princeton, New Jersey; from college; from his stints traveling; from working in New York and especially in Moscow—are campaigning for his release and to keep his name in the news cycle. We give updates about his case on Twitter and Instagram; we provide resources for those who want to help or write him letters; we collect news clips on FreeGershkovich.com. Some have gotten soccer fans to unfurl a banner elevating his cause during an Arsenal game, his favorite team, and others got "Free Evan" to play across a screen during a Yankees game (even though he's a Mets fan—we're going to owe him an apology for that one).
It is a surreal experience to repeatedly talk about a dear friend being held in prison overseas—and horrifying that it is for doing his job as a journalist. And though the Biden administration appears to be pushing hard on Evan's case and the Wall Street Journal dedicates its global voice to calling for his freedom, the immediate future does not look particularly rosy. An administration official told Julie Ioffe, a former Moscow correspondent and longtime Russia commentator, "I'm not hyper-optimistic that it'll go differently than the past. They're looking to extract pain." A State Department official added: "Whether they really think he's a spy vs whether they treat him like a spy unfortunately in this case is a distinction without a difference."
At the White House Correspondents Dinner on Saturday, where Griner was an attendee, President Biden demanded that Evan and Austin Tice, a freelance reporter who was kidnapped in Syria in 2012, "be released immediately."
And, as I and countless others have said repeatedly over the last few weeks, he added: "Journalism is not a crime." Free Evan.