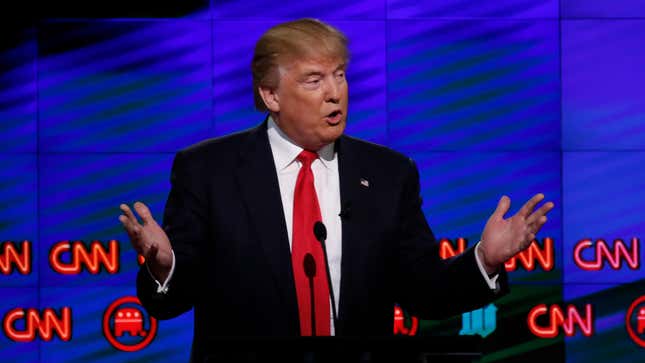 The day after a jury held Donald Trump liable for sexually abusing and defaming writer E. Jean Carroll and awarded her $5 million in damages, the former president was for some reason given the opportunity to take the stage at a CNN town hall Wednesday night and defend himself. And as expected, Trump shirked all responsibility for the sexual assault by claiming he's never even met Carroll.
Politician Cites the Constitution to Eviscerate Gun Supporters
"They're doing this for election interference," he said. "This woman—I don't know her, I never met her, I have no idea who she is."
Of course, Trump had to address the fact that he was photographed with Carroll prior to the alleged incident. "I had a picture taken years ago with her and her husband, nice guy, John Johnson," Trump said. "He was a newscaster. Very nice man. She called him an ape—he happens to be African American—called him an ape. The judge wouldn't allow us to put that in." (There is no reporting that backs Trump's claim of Carroll calling her husband an "ape.")
Then he went after her pet: "Her dog or her cat was named 'Vagina,'" he said, as the town hall audience laughed. "The judge wouldn't allow us to put that in, all of these things. But with her they can put in anything, Access Hollywood..."
CNN's Kaitlan Collins interrupted him to push back. "This was a jury of nine people who found you liable of sexual abuse," she said. "Do you think that will deter women from voting for you?"
"No," Trump replied. "I never met this woman, I never saw this woman..."
Carroll claims, and a jury believed, that Trump cornered her in a Bergdorf Goodman dressing room in the mid-'90s and forced himself on her. She brought witnesses who testified compellingly in support of her, noting that they remember her describing that event as a sexual assault after it happened. (She did not speak of it publicly until 2019.)
But Trump was given the platform Wednesday to describe on a national stage a derisive, fever dream version of Carroll's allegations. "I was immediately attracted to her and she was immediately attracted to me, and we had this great chemistry. We're walking into a crowded department store...and a few minutes later we end up in a room, a dressing room, of Bergdorf Goodman right near the cash register," he said, mockingly, as the audience again laughed. "What kind of a woman meets somebody and brings them up, and within minutes you're playing hanky panky in a dressing room, OK? I don't know if she was married then or not."
Trump played the hits to an appreciative audience throughout the town hall: He falsely called the election "rigged"; he said the crowds gathered in Washington, D.C. on January 6, 2021 were there "with love in their hearts" for a "beautiful day"; he said he was "inclined to pardon many" of those convicted of January 6-related offenses; he empathized with the four Proud Boys members convicted of seditious conspiracy last week. "In Washington, D.C.," he said, "you cannot get a fair trial, you cannot—just like in New York City you can't get a fair trial." More laughs, more applause.
It feels likely that the New York jury's decision in the Carroll case isn't going to move the needle against Trump at all in the 2024 election: Many Republicans politicians have steadfastly defended and stood by him despite the verdict, and despite all other evidence that Trump is a serial abuser of women. But CNN really didn't have to give him such a serious platform tonight from which to spew his bullshit.