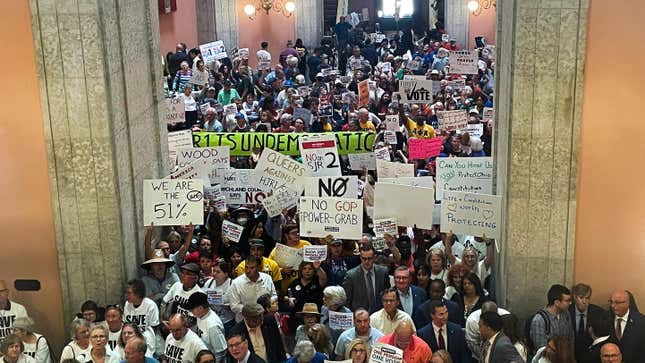 Ohio Republicans are being pretty transparent in their efforts to block a proposed abortion ballot measure from passing by popular vote in November: They're going to spend $20 million in taxpayer dollars to hold a special election that would raise the referendum threshold from a simple majority to 60 percent of the vote to win.
The Filibuster is Standing in the Way of Abortion Access
Abortion rights supporters in Ohio need to collect 413,000 signatures by July 5 to put their measure codifying abortion access in the state constitution on the November ballot. (The initiative would also enshrine the right to make decisions about contraception, fertility treatment, and miscarriage care.) But on Wednesday, Republicans passed a resolution to hold an August special election on whether to make it harder to amend the state constitution.
The resolution, SJR 1, asks voters if they want to raise referendum thresholds from a simple majority to 60 percent. If that passes in August, the new rules would take effect in time for the November election, thereby kneecapping the abortion ballot measure. Every living ex-Ohio governor opposes this special election, including the staunchly anti-abortion John Kasich (R).
Summer special elections are expensive and turnout is usually low—so low in fact that Republican state lawmakers passed a bill last year that would end August special elections unless needed to fill a Congressional seat. That bill took effect in April—yet here they are just weeks later doing everything they can to limit voters' power.
Hundreds of people protesting SJR 1 flooded the capitol Wednesday.
Ohio Senate President Matt Huffman (R), who voted to end August elections, made his motives crystal clear in March. "If we save 30,000 lives as a result of spending $20 million, I think that's a great thing," Huffman told Cleveland.com. (Yes, he's implying that embryos and fetuses are people.)

State Rep. Gary Click (R), who co-sponsored the bill to end August elections, posted a selfie on Facebook with protestors behind him and tried to paint his colleagues as the real defenders of democracy. "Republicans put democracy on the ballot. Despite their chants the Ohio Democratic Party is afraid to trust the people to decide...Why are they afraid of the people?"
Of course, the reverse is true here: Abortion access is broadly popular, even in red states, so Republicans have to rig the game in order to win. As the Associated Press noted:
"Since the U.S. Supreme Court overturned its landmark Roe v. Wade ruling guaranteeing abortion rights last year, other states' amendments involving the procedure have shown voter support for legal access to abortion is between 50 percent and 60 percent, whether in conservative Kansas, Democratic-leaning Michigan or Republican-leaning Kentucky. No vote has exceeded 60 percent. AP VoteCast polling last year found 59 percent of Ohio voters say abortion should generally be legal."
A coalition of local, state, and national groups has already launched a campaign to defeat the August proposal in order for the abortion ballot measure to proceed under the current rules.

Fairness Project executive director Kelly Hall said in a statement that Republicans are "threatened by the idea of voters being able to make progress without permission from the legislature." She added: "Ohioans deserve to have a say in the issues that matter to them, even if it makes politicians uncomfortable. We refuse to allow a harmful system of minority rule to take root and end the long-standing, democratic tradition of citizen-initiated ballot measures in Ohio and across the country."