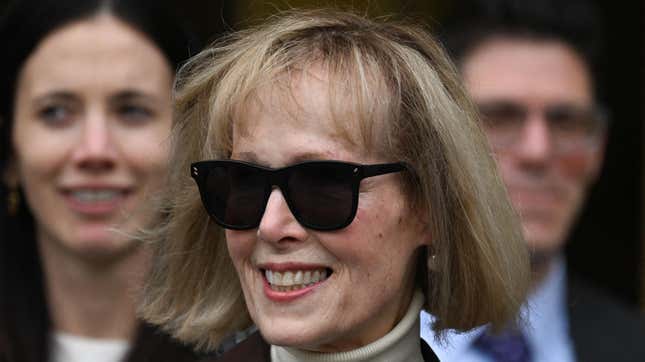 After just three hours of deliberations on Tuesday, a jury found former president Donald Trump civilly liable for the sexual abuse and defamation of writer E. Jean Carroll stemming from an incident in a Bergdorf Goodman dressing room in the 1990s. The jury awarded her roughly $5 million in compensatory and punitive damages.

America's Favorite Pasttime: Dunking On Dr. Oz
Trump responded within minutes with an all-caps message on Truth Social. "I HAVE ABSOLUTELY NO IDEA WHO THIS WOMAN IS. THIS VERDICT IS. DISGRACE," he wrote. "A CONTINUATION OF THE GREATEST WITCH HUNT OF ALL TIME!"
Just before the verdict was read, Judge Lewis Kaplan pleaded for decorum in the courtroom. "No shouting," he said. "No jumping up and down. No race for the door."

Trump was found liable for defaming Carroll based on a Truth Social post in which he called Carroll's case "a complete con job" in October. Trump had previously denied Carroll's claim that he raped her in a dressing room decades ago, calling the allegations a "hoax and a lie" and saying she's not his type.
In addition to the defamation, the jury found that Trump sexually abused Carroll but that her side did not prove the rape charge.
On Monday, Carroll's attorney Roberta Kaplan pushed back against the latter claim by playing video of Trump's deposition wherein he mistakenly identified Carroll as his ex-wife Marla Maples. "What did Mr. Trump do after I showed him that photograph?" Kaplan said to the jury. "He looked at it for a moment and then, completely unprompted by me, he said, 'It's Marla.' She was exactly his type!"
"He said the photo was blurry. But that's the photo, ladies and gentlemen," Kaplan, showing the photo of Carroll, her then-husband, Trump and Ivana Trump, in the 1980s, contradicting his claim that he had never met the writer. "The truth is that E. Jean Carroll, a former cheerleader and Ms. Indiana, was exactly Donald Trump's type."
Trump's legal team did not call any witnesses in the former president's defense, and Trump did not end up casually swinging by the proceedings.
Earlier in the case, the jury—made up of six men and three women—heard from Carroll's friend Lisa Birnbach. Carroll called her minutes after the assault in the Bergdorf dressing room, "breathless, hyperventilating, emotional," she testified. "'He pulled down my tights, he pulled down my tights.' Like she couldn't believe it. She was still processing what happened to her. It had just happened to her," Birnbach told the jury. She said she told Carroll "E. Jean he raped you. You should go to the police."
Carroll never would. Instead, she would keep silent about the dressing room incident. In 2019, she published her memoir What Do We Need Men For? A Modest Proposal, in which he finally detailed what happened that day back in the mid 90s. Carroll was able to file suit against Trump because of the New York state law, the Adult Survivors Act. It opened a one-year lookback window for sexual abuse survivors to sue their abusers.
Carroll herself took the stand in emotion testimony that explained why she kept silent. "Why did you think it was your fault, Ms. Carroll?" asked one of her attorneys, Michael Ferrara.
"Because I was flirting with him and laughing and having one of the great times. It was high comedy. It was funny," Carroll said.
RAINN (Rape, Abuse & Incest National Network) thanked Carroll for going public. "We thank E. Jean Carroll, who will inspire survivors to come forward to tell their stories and face perpetrators," the largest anti-sexual assault nonprofit in the country said in a statement. This case demonstrates that all perpetrators, no matter how powerful, can and will be held accountable."
The jury is now free to go public if they so choose, Judge Kaplan told the jury. "My advice to you is not to identify yourselves. Not now and not for a long time," Kaplan said.
Republican lawmakers are taking their time commenting on the verdict.