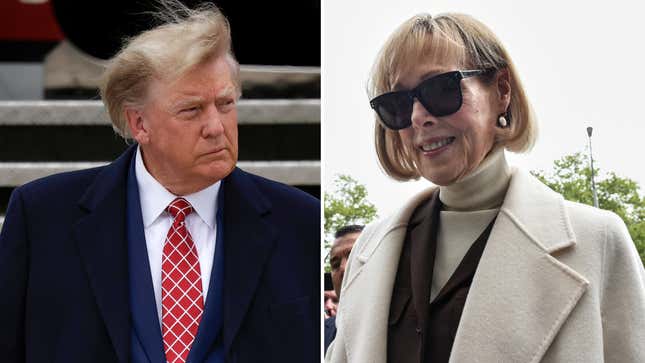 E. Jean Carroll is mulling filing a third lawsuit against Donald Trump after he ridiculed her during a CNN town hall on Wednesday evening, the day after a federal jury found Trump liable for sexual abuse and defaming Carroll. Meanwhile, Trump is appealing the $5 million verdict awarded to her, according to new federal filing on Thursday.
America's Favorite Pasttime: Dunking On Dr. Oz
The lawsuit stemmed from an assault in a Bergdorf Goodman dressing room in the '90s, but on CNN, he called the sexual assault a "made-up story." He also continued to deny knowing who Carroll was, a claim he's made since she published an essay in 2019 detailing the assault. "This woman—I don't know her, I never met her, I have no idea who she is," Trump said on CNN.
When asked to square that statement with the photos of Trump and Carroll pictured together, with their spouses, he pivoted toward spreading racist rumors about Carroll. "I had a picture taken years ago with her and her husband, nice guy, John Johnson," Trump said. "He was a newscaster. Very nice man. She called him an ape—he happens to be African American—called him an ape. The judge wouldn't allow us to put that in."

Like much of what the former president says, there's no reporting to back up his allegations.
Carroll told the New York Times she was asleep during the CNN special, but her attorney, Roberta Kaplan, was awake. On Thursday morning, Kaplan shared the transcript with Carroll, a former Elle columnist. "It's just stupid, it's just disgusting, vile, foul, it wounds people," Carroll said.
She described Trump's Wednesday comments as old-school misogyny. "I am upset on the behalf of young men in America," Carroll told the Times. "They cannot listen to this balderdash and this old-timey view of women, which is a cave-man view."
Carroll still has another defamation suit against Trump making its way through the courts, stemming from other comments he has made in which he accused Carroll of making up the assault. Trump has tried to argue that since he made those comments while he was president, he can't be sued.
Despite pending litigation, Kaplan said another lawsuit against Trump is still possible. "Everything's on the table, obviously, and we have to give serious consideration to it," Kaplan told the Times. "We have to weigh the various pros and cons and we'll come to a decision in the next day or so, probably."