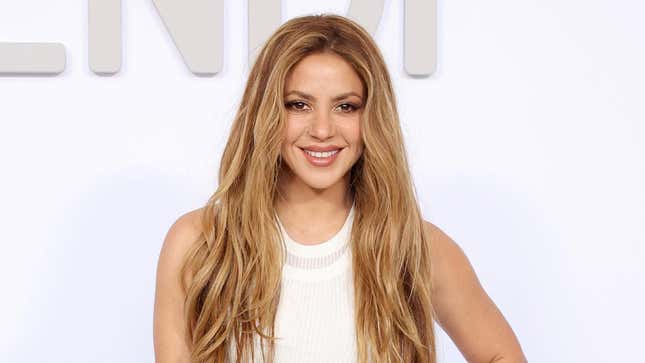 Shakira seems to be getting into tax trouble whenever, wherever she goes.
Just 10 months after the singer faced a $13.9 million tax evasion case, she's now facing a second tax fraud case, this time in Spain. Shakira, if you're listening: I know you've denied any wrongdoing, but you either need to get a new accountant or start doing your taxes, baby!

On Thursday, Reuters reported that a Spanish court had started a new investigation into Shakira's tax payments (or lack thereof), alleging fraud on personal income tax and wealth tax in 2018. The court, located near Barcelona, has not released any information regarding how much money the singer might owe, according to the Associated Press. The latest inquiry apparently stemmed from a complaint filed by the office of the Barcelona Economic Crimes Prosecutor, who alleged Shakira had defrauded the Tax Agency.

A representative for Shakira told People in a statement Thursday that the Colombian singer "defends having always acted in accordance with the law and under the advice of the best tax experts. She is now focused on her life as an artist in Miami and is confident that there will be a favorable resolution of her tax issues."

Her rep added that Shakira has not yet been formally notified of the second investigation: "The singer's legal team will not make any comments until the notification reaches them through the official and legally established channels…As it is publicly known, and as the Spanish Treasury was officially notified, Shakira is now living in Miami, so she must be notified personally at her new address, in strict accordance with the provisions of the Law."

While Shakira's team is essentially saying "pics or it didn't happen" for the second probe, she will still have to stand trial for the first probe in the fall. She'll face up to an eight-year sentence and a fine if found guilty of evading taxes between 2012 and 2014.

Let's also remember that on top of this silly little white-collar crime dustup, Shakira has also been dealing with an (alleged) lyin', cheatin', no-good scoundrel of an ex-husband, Gerard Piqué, and has had to relocate from their shared home in Barcelona to Florida with her two kids. All while trying to date as a single mom.

Still, I can't lie, Shakira makes a fine-ass alleged fraudster if there ever was one.