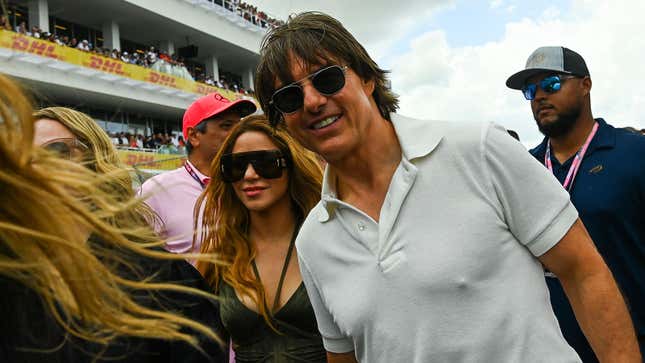 Is it too early to bust out the, "You in danger, girl," gifs?
The openly single Shakira and the supposedly single Tom Cruise were spotted together at the 2023 Miami Formula 1 Grand Prix in Miami Gardens, Florida, on Sunday. There they posed for some professional (if seemingly haphazard, given the angles) pictures—Getty uploaded a handful. Is that alone cause for romantic suspicion? Maybe, maybe not. They could really have been just two famous people talking together about being famous, or whatever else famous people talk about when they aren't talking about being famous. But given Cruise's tendency toward bombastic displays of affinity, it seems fair to at least wonder what this side-by-side smiling for cameras might mean on its face.
Jennifer Hudson Achieves EGOT Status, is True American Idol
Page Six, naturally, has a report suggesting that in addition to merely being in each other's presence, "Tom Cruise and Shakira left the 2023 Formula 1 Miami Grand Prix starting grid early to spend time together in a private hospitality suite Sunday." The rag's spy reported that they "were escorted off the track by security while drivers were still being introduced ahead of the race." They were also extremely chatty in VIP.
Shakira, very publicly, moved to Miami recently following her (again very public) split with soccer player Gerard Piqué after she allegedly discovered her husband's cheating via half-eaten jam. Tom Cruise was most recently linked to actor Haley Atwell, though they reportedly broke up (for a second and final time) last year.
Cruise's romantic endeavors, if we're being generous, are eyebrow raising. Scientology seemed to be a wedge between Cruise and ex-wife Nicole Kidman—something that she and others have alluded to. The Katie Holmes stuff looked weird from afar, and weirder up close to hear some tell it. (In 2020, Leah Remini said, "I knew Katie when she was in [Scientology] and she seemed very indoctrinated into Tom's world, but as time went on, and I understood why she did what she did to protect her daughter … I'm only assuming that there's some type of agreement to protect her daughter.") All this is to say that the prospect of Cruise with a new very public love is disconcerting. Maybe Shakira isn't in danger, per se, but just in case she's considering making it a go with Cruise, I feel obligated to share the words Tisha Campbell's Boomerang character committed to poster:
---