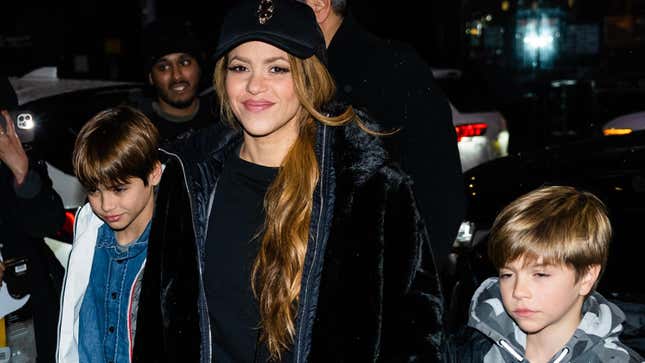 Shakira shared on social media over the weekend that she and her two sons have left her home in Barcelona and made the move to Miami—but maybe not of her own accord. Per a Monday report in the Mirror, local Spanish outlets are saying Shakira's ex-husband's father, Joan Piqué, actually sent an email to Shakira last month giving her until the end of April to vacate the home the family once shared or pay a substantial fee, essentially threatening to evict his own grandsons.

Taylor Lautner Doesn't Even Remember Saying 'Bella! Where the Hell Have You Been Loca?'
The reported eviction sounds all the more insulting when you remember Gerard Piqué allegedly cheated on Shakira—an accusation not-so-subtly made by Shakira herself and not at all denied by Piqué. Now, if my son had cheated on a once-in-a-generation artist and the parent of his kids, I, personally, would have more shame than this.
Rather than face eviction, apparently, Shakira seems to have opted to move across the Atlantic. "I settled in Barcelona to give my children stability, the same that we are now looking for in another corner of the world next to family, friends and the sea," the singer wrote in an Instagram post translated from Spanish to English. She thanked "everyone who encouraged me there, dried my tears, inspired me and made me grow," and offered special thanks "to my Spanish audience who have always covered me with their love and loyalty"—which is certainly more than Mr. Piqué can say.
By most accounts, Shakira's nasty ex-landlord hardly raised a gentleman. Just last month, capping off months of speculation about his infidelity, Piqué essentially told a Spanish publication he wasn't sorry for anything and plans to "keep doing what I want," adding that he wants "to be faithful to myself"—truly fighting words, considering Shakira's pointed lyrics about his inability to be faithful to her.
I strongly get the impression that Piqué and his family seem to see him as the victim in this whole scenario, as he's increasingly despised by the entire continent of Europe and frankly most parts of the world right now. The man was booed by his own team's fans this summer and has been very loudly booed at pretty much every public appearance he's made thereafter, even (allegedly) being thrown out of a restaurant. I hardly doubt that his father evicting his ex, among the most universally beloved celebrities in the world, will do much to endear him to the masses. But I guess it's one way to get petty revenge on her for so decisively winning the break-up.
Whatever exactly went down here, I do wish Shakira and her kids all the best as they embark on what will surely be a Time™ in Ron DeSantis' Florida. Hoo boy!