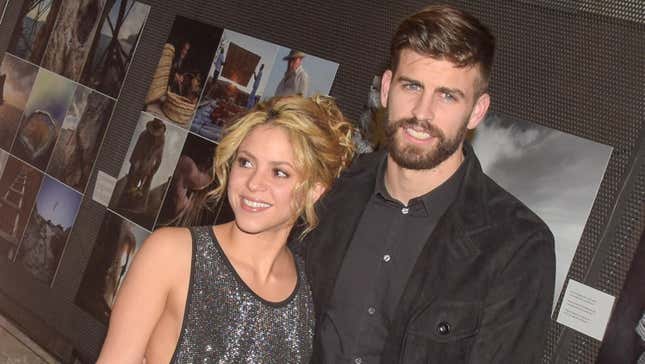 One hit break-up song and a literal carnival float (both bashing him) later, Gerard Piqué does not sound all that sorry for allegedly cheating on ex-wife Shakira with his current, 20-something girlfriend. An interview between Piqué and Spanish publication El Pais, originally published over the weekend, is now making the rounds, as the former footballer insists he doesn't care what anyone thinks of him and will very bravely do whatever he needs to do to be happy—something no man has ever done…

The Cast of 'Jersey Shore: Family Vacation' Think All Roadtrips Are Shitshows
Piqué told the outlet he's "very happy" right now, even as the most hated man in the continent of Europe. "I keep doing what I want," he said. Wow! "The day I die, I will look back and hope I have always done what I wanted." He even had the gall to add, "I want to be faithful to myself," in the face of fighting words from Shakira claiming that he sure wasn't faithful to her.
Despite being booed by his own team's fans this summer, then very loudly booed at pretty much every public appearance he's made thereafter, and even (allegedly) being thrown out of a restaurant, Piqué insists he doesn't care about just how much the public has sided with his ex: "I'm not going to spend money cleaning up my image," he said. "There have been changes in my life and I have known how to preserve happiness." Good for him for "preserving happiness"—cheating is famously very hard on *checks notes* cheaters.
Shakira and Piqué announced their separation in June, and shortly after, Shakira rolled out a scathing track about being cheated on that left little to the imagination. The lyrics to her song "Out of Your League" include: "I'm worth two 22-year-olds / You traded a Ferrari for a Twingo / You traded a Rolex for a Casio." Reports eventually emerged claiming that Shakira uncovered Piqué's cheating through some unconventional sleuthing, in which the singer reportedly noticed that someone (Piqué's paramour, Clara Chia!) was eating her strawberry jam while she was away, despite the fact that Piqué and their kids don't eat jam. Just a crazy—but impressive!—way to catch a partner in the act.
Whatever the truth of what went down between Shakira and Piqué is, Shakira seems pretty certain of her version of events, and Piqué does not seem vaguely remorseful. His interview gave no sign of regret or self-reflection, only humble brags about how brave he is for leaving his ex-wife for a younger woman.
In any case, there doesn't seem to be much love lost between the exes. In her first interview touching on the subject of their separation in September, Shakira called the divorce "incredibly difficult" on their children and noted that "regardless of how things ended or how Gerard and I feel about each other as ex-partners, he is the father of my children."