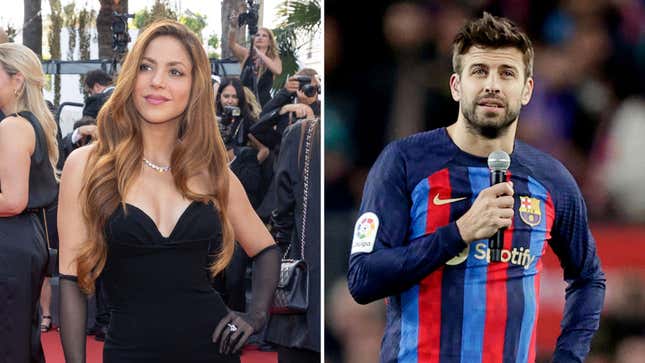 Shakira's ex-husband appears to have found himself in a bit of a...jam.
The singer has been no stranger to controversy as of late, but that hasn't stopped the internet from globbing onto an unsubstantiated theory about how the singer may have caught her ex, soccer player Gerard Piqué, cheating on her. The plot of said theory can be summarized as follows: Who stole the jam from Shakira's jam jar?

Taylor Lautner Doesn't Even Remember Saying 'Bella! Where the Hell Have You Been Loca?'
After a 12-year romance, Shakira, 45, and Piqué, 35, ended their relationship last year after Piqué allegedly left his wife for 23-year-old Clara Chia Marti. Though Piqué's relationship with Marti had long been reported as an affair, Shakira was apparently "devastated" when sleuths uncovered footage of Marti in the back of a Zoom interview Piqué had given from their shared home in 2021. The two were reportedly still together at the time.
Fast forward to the juicy stuff: the strawberry jam. In August of last year, Shakira put out a single with Rauw Alejandro called "Te Felicito." One particular scene in the music video for the single shows Shakira peering into a fridge, and when asked about the scene in interviews (according to a very murky string of sources, I must add), Shakira reportedly said she was hoping to "find the truth." In the fridge!
The story gets increasingly blurry from here, but according to ShowNews.today, a Spanish TV program called Socialite declared that Shakira caught her husband cheating after discovering a partially eaten jar of jam. She had been out of town promoting her music…but Shakira is supposedly the only one in her household who eats strawberry jam! Gerard hates jam! So who could've eaten the jam other than…his mistress?!
As always, the internet loves a cheating scandal, regardless of the accuracy of the jam tale. Shakira shall go forth and be known as the keeper of the jam and the seeker of re-jam-ption. Because what could be more painful than a vision of some bitch eating Shakira's special strawberry jam in Shakira's house? The roof that Shakira raised her children under?! Shakira may have put a voo-doo doll in front of her mother-in-law's house, and she may be accused of tax evasion, but God willing, the internet be damned if another woman sticks her claws in Shakira's jam jar ever again.