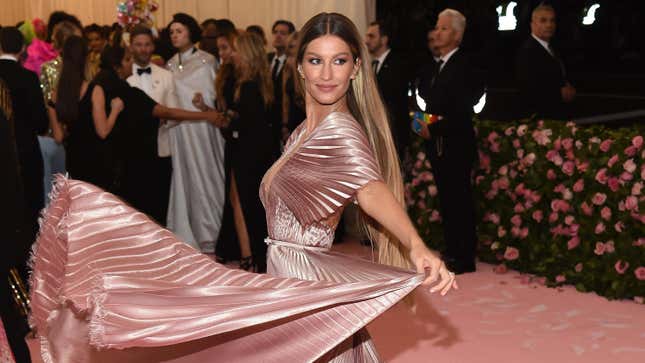 Break out your broomsticks ladies and gentlepeople, because the witch is back—on her own terms, as is the wont of every post-divorce glossy magazine profile.
Taylor Lautner Doesn't Even Remember Saying 'Bella! Where the Hell Have You Been Loca?'
In Vanity Fair, Gisele Bündchen clarifies the facts of her divorce in a typically vague celebrity manner. I, a mere mortal, could not resist even a crumb of insight into her thoughts, and spent 20 minutes reading about Gisele's new "pura vida" in her Costa Rica compound. Yet I still know more about the supermodel's favorite Brazilian slang than I do about the demise of her marriage to Tom Brady.
After auspiciously healing a baby bird's "mangled claw" by performing "a little Reiki" from the scenery of her "minimalist casita in the shadow of her towering main house," Bündchen is asked if there were any stories written about her divorce that weren't true. To this, she replies, "Everything." This exchange follows:

"Like, I would give up my dream because of…" Bündchen trails off.

"One more season?" I attempt to fill in.

"Wow, people really made it about that," she says. "What's been said is one piece of a much bigger puzzle," Bündchen tells me later. "It's not so black and white." Bündchen also dismisses digital murmurs that politics—namely, the MAGA hat spotted in Brady's locker in 2015—drove a wedge. "Never," she tells me.
It appears, then, that there was no ultimatum; Bündchen never forced Brady to pick her and the family over the NFL. Rather, she loves football, she says, and the narrative that she would ever bribe Brady into tossing his career aside is "very hurtful" and "the craziest thing I've ever heard."
"Listen, I have always cheered for him, and I would continue forever," Bündchen says, apparently in a voice "thick with emotion." "If there's one person I want to be the happiest in the world, it's him, believe me. I want him to achieve and to conquer. I want all his dreams to come true."

Ending the 13-year relationship felt like a "death and a rebirth." Bündchen adds that she's still mourning "the death of [her] dream"—which was seemingly a long marriage to Brady—though that death itself was a slow burn:

"When I was 26 years old and he was 29 years old, we met, we wanted a family, we wanted things together. As time goes by, we realize that we just wanted different things, and now we have a choice to make. That doesn't mean you don't love the person. It just means that in order for you to be authentic and truly live the life that you want to live, you have to have somebody who can meet you in the middle, right? It's a dance. It's a balance…When you love someone, you don't put them in a jail and say, 'You have to live this life.' You set them free to be who they are, and if you want to fly the same direction, then that's amazing."
After moving to Tampa Bay for Brady's quarterback gig with the Buccaneers (a place she notes she had never been to before it became her home), Bündchen is now splitting time between Miami (where she and Tom will co-parent their kids) and Costa Rica. On Friday nights there, they apparently "make gluten-free pizzas in her outdoor oven, then circle the firepit holding sticks and sharing stories." (What they are doing with these sticks is unclear.) Bündchen and the kids also practice jujitsu with her once-rumored-love interest Joaquim Valente, who sometimes travels with the family. Bündchen repeatedly refers to the Valente brothers as "amazing," and says they—"Joaquim especially"—have become great friends of the family. (We are not above shipping this potential relationship.)
Other than the paparazzi, the rumors that she's dating billionaire Jeffrey Soffer (she denies this charge vehemently), and the repeated offers to walk fashion's most-coveted runways, Bündchen's life is...sort of what you'd expect. She is building a "tiny solar-powered house in the mountains" where she plans to live off the land. (Of course she is.) She "regularly communes with birds, squirrels, and butterflies" (of course she does), and refers to herself as a "witch of love" with a wink. (This I need more clarification on.)
"I'm a simple girl who wants to be in nature—leave me alone. I just want to go do my job and raise my children in peace," she says from her gated compound that boasts a pickleball court, something called a yoga palapa, and a chicken habitat.
"I don't want to be limited," Bündchen says. "I want to spread my wings and fly."

I understand why Gisele would put so much effort into not shit-talking the father of her children. But that sure as hell suggests that her marriage to Tom was, for lack of a better word, pretty limiting! In the vein of Emily Ratajkowski's "bitch era," I hereby proclaim Gisele's post-divorce, wing-spreading moment her Witch Era. Can't wait to see who she casts a spell on next—and I sincerely hope they have absolutely nothing to do with the NFL.