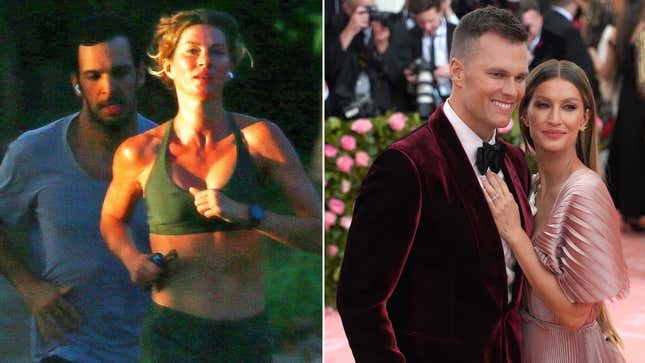 If being unceremoniously (and hilariously) eliminated from the play-offs on Monday sparked any realizations for the Tampa Bay Buccaneers' Tom Brady—that mayhaps he shouldn't have traded his family for football—welp, it's too late! Brady's ex-wife, supermodel Gisele Bündchen, has, at least on some level, moved on with a new man who does things that Tom didn't.

Last year, shortly after she and Brady separated, Bündchen made headlines upon being photographed on vacation with her kids and her hunky jiu-jitsu instructor Joaquim Valente. Neither Bündchen nor Valente ever publicly commented on or clarified the status of their relationship in the ensuing months, but dishing to People, a source close to Bündchen finally offered some insights on Friday.
"Gisele adores and trusts [Valente] and has been spending a lot of time with him, but I don't think it's a traditional dating scenario," the insider said. "They have a deep personal relationship, and he is a teacher to her and the kids. Whether or not it will ever become more than that rests on the table."
Another source told People Bündchen is "focused on her kids, her health and work," and "is happy and doing really well." They continued, "Last year was rough, but she is confident that things will just keep going up from here. She has no regrets. She wishes Tom the best, but is confident that the divorce was the right option." Honestly, nothing would delight me more than if this anonymous source speaking on Bündchen's behalf were none other than Bündchen herself. To wish someone the best but have "no regrets" is truly the coldest thing you could ever say about an ex.
All of that said, whatever is the true nature of Bündchen's relationship with Valente, I'm just glad she finally found someone who actually wants to spend time with her and her kids. Lord knows that for all the, err, controversial videos of Brady kissing his kids, if he wanted to spend more time with his family, he would!! You know, instead of retiring then un-retiring, leaving all the child-rearing to Bündchen and wholly disregarding the life and career that she may have wanted.
Well, whilst Tom reportedly spent Christmas alone and had to go home to an empty house on Monday night, too, it seems Bündchen has finally found a man willing to give her—and her kids!—at least some things Brady wouldn't. I have to wonder if throwing it all away for another year of tossing a ball around was worth it!