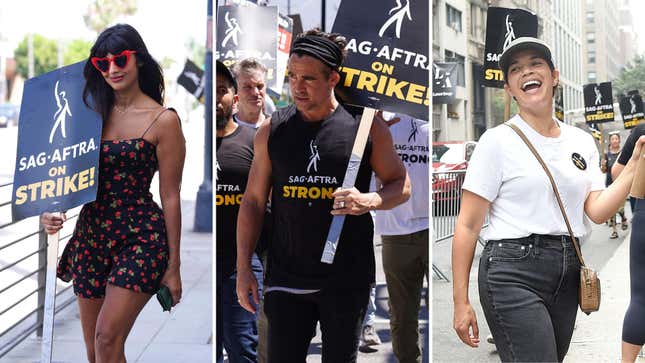 We are evidently now living through "Hot Labor Summer," a moniker that isn't quite as catchy as it is heartening. Mid-July marked the launch of the SAG-AFTRA (actors union) strike; they joined the WGA (TV writers) strike, which had already been going for 11 weeks. And two weeks into the joint strike, Senator John Fetterman (D-Pa.) has introduced a bill to protect food stamp access for striking workers. It is very exciting to see the fruits of everyone's frustration with greedy executives who luxuriate on yachts while keeping the large majority of these union members living paycheck to paycheck.
While on strike, SAG members aren't allowed to promote projects they've made with big studios, which includes walking the red carpet; Barbie was the last big red (as in, pink) carpet event, as the Oppenheimer starts ditched their red carpet once their strike was announced. That's why we're getting Disney villains and real life villains at premieres instead. But just because the hot celebs with good labor politics aren't on the red carpet doesn't mean we can't check out what they're wearing on the picket line.
So, in a small show of solidarity with striking workers, here are some of the famous faces out there fighting the good fight. And if you're feeling extra revved up by seeing Susan Sarandon in a gorgeous golden linen, consider donating to the Entertainment Community Fund, which supports striking workers in need of rent, medical, or other critical funds.