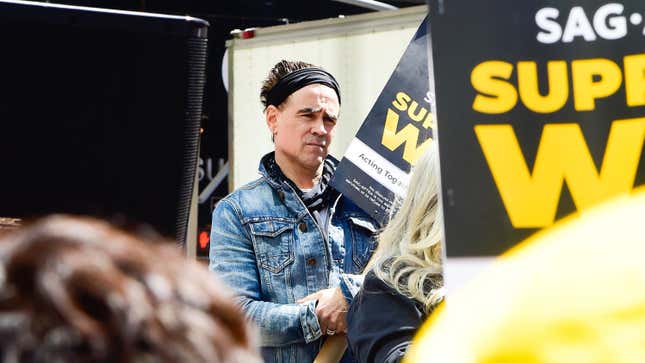 Colin Farrell has already survived one sex tape scandal, and now, he's facing another. But, in a stroke of luck for us perverts, this newer, more erotic footage of Farrell isn't entirely unethical: It's him lending his voice to the writers' strike. That's right, those who are fans of his work can now dim the lights, draw the curtains, and...lust over the sexy things he says with the satisfaction of knowing we're not totally depraved—just horny.
Is Emmy Rossum Old Enough To Play Tom Holland's Mom?
On Thursday, the Oscar-nominated actor stopped by the Writers Guild of America's (WGA) picket line outside Paramount Global's New York City office in Times Square. Never mind that he did so wearing a headband reminiscent of something a pre-pubescent girl in 2003 might wear; he showed up, and when every other male celebrity is either a sexual predator or just shitty, that's everything.
Notably, Farrell also let Sen. Kirsten Gillibrand (D-N.Y.) address the crowd, opting to quietly stand in solidarity alongside fellow industry notables like Mariska Hargitay, Danny Strong, Paula Pell, Rachel Dratch, Michael Kelly, and Craig Zobel, as she delivered a speech. Then Farrell put his mouth to good use.
"Writers are everything to us," he told Variety, as seen on video. "It's unfair what's happening. The majority of writers are not able to make a living they need to make to provide for their families."
Farrell then expressed optimism in the studios and writers eventually reaching an agreement. Why? "Because the stare-down going on is so fucking boring and a testament to the arrogance of those at the top that these people are now out of work and can't because they are doing the right thing."
Now, if there's one thing we've learned about Farrell's film performances, it's that he's got stamina. Thus, he didn't stop there—he only continued his dirty little diatribe.
"For 25 years I've made a living and provided for my family off the backs of the creativity of writers…it's unfair what's going on…they are the genesis of all that we do," he told Deadline. I'm sorry, but that's the new, "breakfast lunch and feckin' dinner."
It's long been public knowledge that Colin Farrell is mortified by his infamous sex tape. I get it. Its leak was an inexcusable invasion of privacy, and he was more than justified in taking legal action to ensure it wasn't distributed. That said, if anyone needs me, I'll be taking the remainder of the afternoon to make these clips go viral. Because why watch Farrell engage in intercourse when we now have access to him publicly supporting writers?