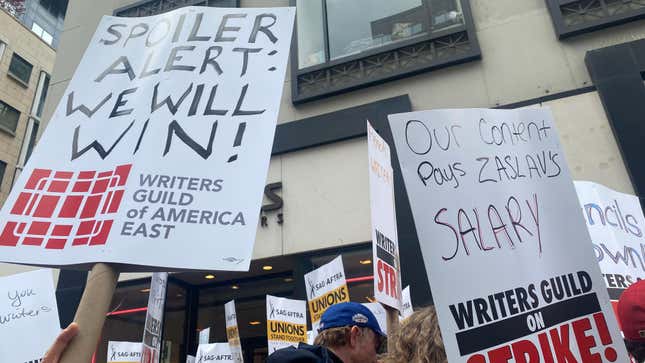 Last night at the Rihanna watch party (aka the Met Gala), there was one question on the minds of many a red carpet reporter: "Do you support the writers' strike?" Lo and behold, the hottest trend in Hollywood—besides bucket hats and couture tactical wear—is supporting film and television writers striking to earn a living wage.

"Everything changed with streaming, and everybody needs to be compensated for their work. It's fucking easy," Amanda Seyfried, her hair blown out to high heaven, told Variety. Other famous comrades like Quinta Brunson, Brian Tyree Henry, James Gunn, and Olivia Wilde made similar statements. Mindy Kaling said she was reading every email from the guild, adding, "I'll do my part, no matter what." Even Jimmy Fallon, whom I've spent considerable energy ignoring, demanded my respect when he told the Variety reporter, "I wouldn't have a show if it wasn't for my writers, I support them all the way." That's right, Jimbo.
At the stroke of midnight on Monday night (Tuesday morning?), the Writers Guild of America began to strike, after six weeks of failed negotiations with the Alliance of Motion Picture and Television Producers (AMPTP). AMPTP is comprised of all the hotshots on your Roku homepage: Netflix, Amazon, Apple, Disney, Discovery-Warner, NBC Universal, Paramount and Sony. A priority for WGA is better compensating writers for work they do on streaming shows; though streaming has become the industry standard for premiering and watching scripted television, the previous contract did not account for our binge watching habits.
Back in the day when Lil Mama's lip gloss was poppin', shows were released on this novel device called television. Writers were paid when their shows aired and then, when they re-aired—for Friends marathons, afternoon filler, or what have you—they'd get residual checks. Residuals are (or at least used to be) a substantial part of writers' compensation.
But now that anyone can do their own personal Rachel n' Ross-palooza at any hour of the day or night, writers aren't seeing those residual checks: Contracts for streaming series are stuck in a time when Lil Mama had a Billboard Top 100 hit (2007.) Meanwhile, from 2000 to 2021, the WGA estimates that industry profits have swelled from $5 billion to $28-$30 billion. Writer pay should reflect that growth.
"The companies' behavior has created a gig economy inside a union workforce, and their immovable stance in this negotiation has betrayed a commitment to further devaluing the profession of writing," the WGA said in a statement Tuesday morning. The AMPTP will likely drag its feet, calling writers unreasonable for striking, but at the end of the day, the truth is obvious: They just don't want to share any slices of that $30 billion pie.
"I've been a writer for so long that I don't qualify for anything else if this doesn't work," The Daily Show writer Nicole Conlan told Jezebel on the picket line. Without a better contract, she's "not going to be able to afford rent in any of the cities where the jobs are." Conlan also said she supports a stronger contract because it will bring in talent that doesn't have the same safety net she does.
When writers last went on strike in 2007, they were on the picket line for 100 days. During that time, late night shows and other series that wrote and filmed daily were affected immediately. In 2023, without a staff to write jokes, Jimmy Kimmel, Jimmy Fallon, Seth Meyers and Stephen Colbert aren't planning to air any news shows until an agreement is reached.

Every television line you quote aloud, buy in a funky font on a T-shirt, or turn into a meme in the group chat was written by someone. TV and film writers' work creates the culture. Their skill shapes not just how we spend time but how we relate to other people. It shapes how our lives are lived. Writers deserve living wages, and more. Support the strike.