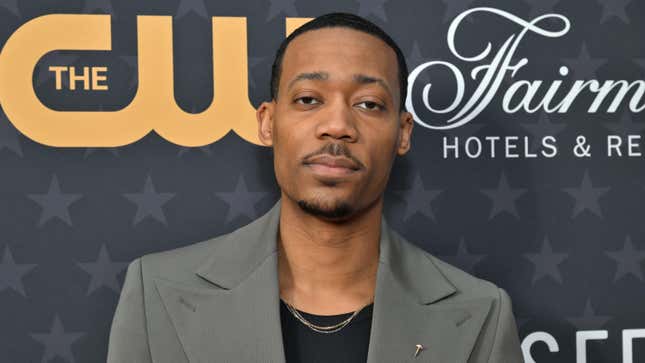 My favorite part of Abbott Elementary is how normal its characters are. Yes, public school teachers are heroes, and the show is about the everyday challenges they work together to overcome, but ultimately, they're just nice—if hilariously fallible—people trying to make their world a little bit better everyday. And that's precisely the ethos that Tyler James Williams—who plays the internet's current crush, teacher Gregory Eddie—had in mind, when he and Quinta Brunson collaborated on fleshing out Mr. Eddie.

Luke Macfarlane Talks Starring In Historical Gay Rom-Com 'Bros'
In an interview with GQ published on Wednesday, Williams said he appreciated the extensive online thirst for his character, and that his intention with Gregory is to showcase the attractiveness of every-man types like "the dude at church, that boy who works at the corner store, your cousin." In particular, he talked about the "need to continually romanticize Black dads," as we watch Gregory toil away at teaching and being a mentor to first grade students in a predominantly Black community.
"A lot of the work that I do takes place in the past because I look like a Black man of any era," he told GQ. "Abbott gave us an opportunity to make that attractive. So it wasn't Quinta Brunson making me a heartthrob. It was giving people the opportunity to see the man they see every day as that."
Williams said that Brunson often sends him thirsty tweets about his character, and one that stuck with him read, "Tyler James Williams looks like a n***a you meet in church." He said, "That's exactly what I'm going for. I don't want him to feel like some unicorn."
"I hated that all of the love interest characters I saw were either the same brand of white man, or, if he was Black, he was 'the unique other.' The asterisk. Almost an angel that fell to Earth," Williams said.
A lot of Gregory's charm, he told GQ, is also rooted in how good he is with kids, which, of course, is key for a first grade teacher. "We wanted Gregory to feel like somebody who was not yet a great dad, but you knew he would be," he said. Gregory's on-screen father, a veteran, is cold and distant, but Gregory still works to create a good relationship with him—and to overcome that strained model for his students. "What I love most about him is watching him try to bridge the gap between being something he hasn't seen before and what his kids need," he said of Gregory. "I think a lot of Black men are trying to do something we've never seen before."
As I've previously written, I salute Brunson for writing such a casually charming love interest. We are living in an age of often-unexpected male TV characters becoming Twitter's rotating crush of the day: Among Succession fans, Kendall Roy has a loyal base of female stans obsessed with how "pathetic" he is. Ted Lasso's Roy Kent is adored for his grumpiness. What Tyler James Williams brings to the table as Gregory is utter normalcy, the charm of an earnest every-man. We love it—just as Williams and Brunson knew we would.