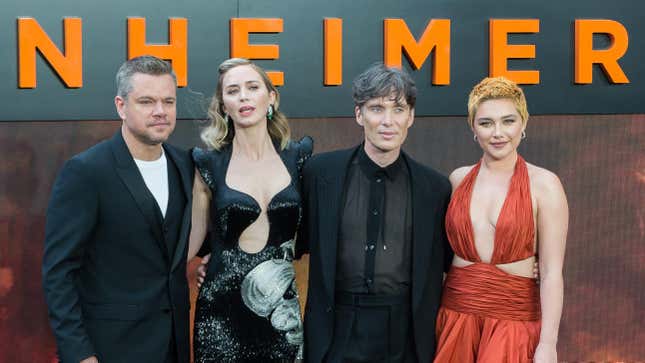 Oppenheimer? I hardly knew her! Ayo! Alright, dubiously executed joke format aside, I do hardly know the Oppenheimer cast—not just because they've been overshadowed by the far-reaching Barbie marketing campaign but because they all walked away mid-premiere in support of the SAG-AFTRA strike.
Oscars Biggest Snub in 2022? Behind The Scenes Crew Members
On the red carpet, a number of the film's stars spoke about the urgency of the moment and their plan to stand with their union. Emily Blunt told Deadline earlier in the evening:
"I hope everyone makes a fair deal and we are here to celebrate this movie. And if they call it, we'll be leaving together as cast in unity with everyone … We are gonna have to. We are gonna have to. We will see what happens. Right now it's the joy to be together."
Matt Damon also explained to Deadline that the strike is "the difference between having healthcare and not for a lot of actors, and we gotta do what's right by them." Industry-friendly Deadline initially only quoted the first half of what Damon said in the below video, which made him look anti-union. If you expand the text on the tweet below, you can see Deadline issued a correction. Closing my eyes and imagining Damon angrily demanding his lawyers call up Deadline and have them correct the tweet to show he's not a fucking scab. Hot.
On stage at the premiere, director Christopher Nolan acknowledged his cast's absence.
"We have to acknowledge, you've seen them here earlier on the red carpet. Unfortunately, they're off to write their picket signs for what we believe to be an imminent strike by SAG, joining one of my guilds, the writer's guild, in the struggle for fair wages for working members of their union. We support them."
Florence Pugh didn't have anything to say specifically about the strike but did show solidarity by saving Blunt from a wardrobe malfunction and helping her cover up earlier in the week. There are many ways to support your fellow union members!

What's been most helpful, for me, about this walkout at the Oppenheimer premiere is that I finally am aware of who the fuck is actually in Oppenheimer. Robert Downey Jr? Rami Malek? I was so used to staring at that one image of Cillian Murphy in a Panama Hat, it didn't occur to me that people other than Murphy and Nolan were a part of making this film. The more you know!
---