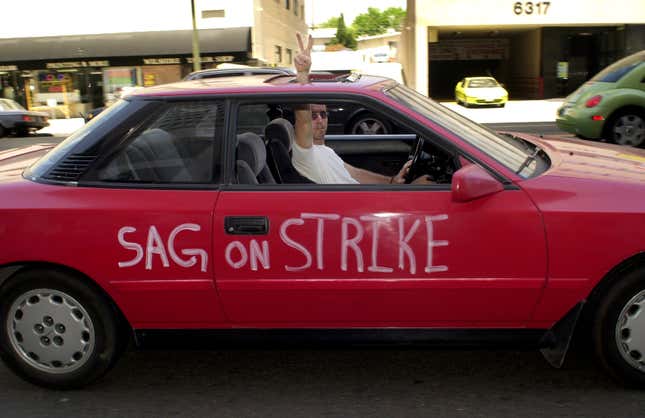 Seventy-two days into the WGA writers' strike, SAG-AFTRA, the actors' union, will join their entertainment brethren on the picket line. Union leadership announced the strike during a press conference on Thursday afternoon, and said it would commence at midnight, after the Alliance of Motion Picture and Television Producers (AMPTP) "refused to meaningfully engage on some topics and on others completely stonewalled" SAG-AFTRA during negotiations, according to union president Fran Drescher (yes, from The Nanny).
Oscars Biggest Snub in 2022? Behind The Scenes Crew Members
"We are being victimized by a very greedy entity. I am shocked by the way that people we have been in business with are treating us," Drescher said during the press conference. "I cannot believe it quite frankly—how far apart we are on so many things, how they plead poverty, that they are losing money left and right when giving hundreds of millions of dollars to their CEOs. It is disgusting. Shame on them. They stand on the wrong side of history."
"What we ultimately received from them is what my mom would call 'a leck and a schmeck,'" she added.
The last time both the WGA and SAG-AFTRA were on strike was 1960, when Ronald Reagan was the actors' union's president. Both of these unions striking simultaneously effectively shuts down Hollywood.
SAG-AFTRA's position focuses on a number of industry issues, especially the current state of streaming and AI. In a statement released this morning, Drescher said, "The AMPTP's responses to the union's most important proposals have been insulting and disrespectful of our massive contributions to this industry."
Unfortunately, this flippant attitude from AMPTP comes as no surprise if you've been following the writers' strike. Earlier this week, a studio exec told Deadline, "The endgame is to allow things to drag on until union members start losing their apartments and losing their houses." Cue me quoting I Think You Should Leave: "Oh my god! He admit it!"
In anticipation of the looming strike, the cast of Oppenheimer, including Cillian Murphy, Florence Pugh, Matt Damon, and Emily Blunt, left the London premiere of their movie early Thursday. Blunt explained to Deadline beforehand, "If they call it, we'll be leaving together as cast in unity with everyone." Director Christopher Nolan acknowledged his cast's departure, saying, "Unfortunately, they are off to write their picket signs for what we believe to be an imminent strike by SAG, joining one of my guilds, the Writers Guild, in the struggle for fair wages for working members of their union."
Bob Iger, CEO of Disney, told CNBC on Thursday morning that the writers' strike and potential SAG strike were "very disturbing." "There's a level of expectation that they have, that is just not realistic," he said. I'll tell you what's disturbing and unrealistic: Iger's $690 million net worth.
SAG-AFTRA is bargaining in part to "protect the digital likeness, voice, and performance simulations of its members"—that is, to prevent studios from making fully-AI versions of actors. They're also hoping to update actor contracts at studios like Netflix, HBO, and Amazon that almost exclusively put out streaming content. Currently, contracts at these "new media" outlets (a laughable term, given that Netflix started streaming 15 years ago) do not grant actors residuals based on how often their shows are rewatched, like they do for syndicated TV shows.
A New Yorker article earlier this week detailed the financial realities of this "new media" contract: Orange Is the New Black actor Emma Myles "still gets around six hundred dollars a year for a handful of guest spots on 'Law & Order: Special Victims Unit,' stretching back to 2004, but her residuals this year for 'Orange' have come to around twenty bucks." Woof.
Meanwhile, Netflix CEO Ted Sarandos, who enjoys his prominence and wealth because of the success of shows like OITNB, "earned" a salary of $50.3 million in 2022.
Across creative and human-driven industries, including journalism (even at G/O Media, which owns this website), higher ups have been flirting with the existentially boring and yet threatening promise of AI-generated content. The supposed benefit of AI replacing writers and actors and artists of any kind is that it is cheaper and that's...about it. Riddled with errors, consistently racist and sexist, and predictably unexciting, AI content does an excellent job keeping overhead costs low for folks already situated with second and third homes. Meanwhile, workers whose jobs are endangered by the rise of AI are already struggling to make ends meet in the costly cities these industries are rooted in. The situation is disgraceful, and industry executives going all in on AI only makes it worse.
All of us at Jezebel send our solidarity to the striking actors, writers, and workers fighting for a more equitable piece of the pie.