It would be putting it lightly to say that I enjoy reality television. I watch multiple hours of Bravo per week. I take great pleasure in blogging about shows like Vanderpump Rules and Bachelor in Paradise. I've locked eyes with Lisa Vanderpump between three and four times, I'm on two distinct email listservs dedicated to reality shows, I (closely) follow Mohamed Hadid on Instagram, and my iPhone background is a picture of Sonja Morgan slumped in bed wearing a tiara.

For myself and many friends and coworkers, reality TV serves as a bonding mechanism similar to sports, if sports were funny and interesting. We gather for Monday night Bachelor screenings, swap stats at parties, and desperately search for the RHONY cast at their favorite awful nightclubs. There have always been moral complications attached to these shows, but since Donald Trump, Apprentice star and maniac, was elected as the 45th President of the United States last month, the line between entertainment and reality has never felt so faint, or so vulnerable to manipulation. In light of this turn of events, the impulse to mindlessly champion something—a TV genre, a presidential candidate—despite its proven twistedness seems like an impulse worth reexamining.
As a child of the '90s and a teen of the aughts, I grew up watching women get humiliated on national television, although I rarely thought of it that way. The contrarian phase of my adolescence directly paralleled a burgeoning golden age of reality TV, when it had shifted over from the relative realism found in the early genre—the 1970s documentary-style series An American Family; the diverse mingling and groundbreaking AIDS activism of the first years of The Real World—to an explosion of escalating wish fulfillment, cutthroat competition, and sexual voyeurism. Defying parental orders, I snuck into my basement and turned the volume way down to watch Trishelle, Steven, and Brynn on The Real World: Las Vegas drink half their body weight and lunge at each other in the series' first televised threesome; a few years later, I watched Laguna Beach teen antihero Kristen Cavallari dance on a pole in Cabo as her boyfriend Stephen, my TV crush, screamed "slut!" from the crowd.
I'd track "bad" but beloved characters like Kristen for clues of both how to be and how not to be, drawing inevitably shaky conclusions. Angular, mean, powerful, Kristen would expertly brush on silver eyeshadow in front of a vanity stacked with smoking straighteners as she cackled with her crew of loyal girlfriends. As Kristen rolled her eyes at the "drama, drama, drama" she professed to hate, across town, in a fancier, more expensive home, vanilla protagonist Lauren "LC" Conrad would be dusting on her own bronzer and frying the frizz out of her own hair, plotting in turn against Kristen with her own girl army. These tropes—framing a woman's vanity, both literal and figurative, as the seat of her power; depicting female friendship as a series of brawls between sexual competitors—remain popular in reality television (and media in general), and are by no means the only terrible ideas promoted by the genre.
G/O Media may get a commission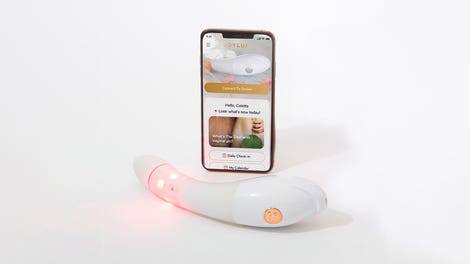 $50 Off
Joylux vFit Gold Device
Donald Trump executive-produced and starred in The Apprentice between 2004 and 2015 (and will continue to receive an "executive producer" credit as president), expanding his brand by playing grown-up in a conference room where he frequently berated contestants as "stupid." Trump, along with show creator Mark Burnett, seemed to delight in subjugating and demonizing women and minorities—and, like many successful reality stars, found popularity in qualities that the civilized world rejects. Trump's ascent to power perfectly encapsulates "the negative impact of the glorification of regressive, sexist, racist tropes in reality TV going on 16 years now," Jennifer Pozner, media literacy educator and author of Reality Bites Back: The Troubling Truth About Guilty Pleasure TV, told Jezebel. Pozner, whose 2010 book examined the intolerant values and severe distortions that pervade reality television, has been doing the media rounds lately as liberal America struggles to grasp the previously unnoticed factors that helped get Trump elected.

"One of the very under-analyzed aspects of Trump's rise to power is the fact that he was in America's living rooms nearly every week for about 10 years, on a show that he and Mark Burnett collaborated on to frame as entirely flattering to the Trump brand," she said. The results of the election, she added, might have been different "if he had not been in our living room every week for a decade telling us how great he was." Of course, the excessive manipulation, pandering, melodrama and voyeurism once relegated to the entertainment sphere have remained in play during the presidential transition. In an email to Vanity Fair regarding Trump's election, Emmy-winning reality show producer Bill Pruitt, who worked on the first two seasons of The Apprentice, brought a first-person perspective to this analysis:
We are masterful storytellers and we did our job well. What's shocking to me is how quickly and decisively the world bought it. Did we think this clown, this buffoon with the funny hair, would ever become a world leader? Not once. Ever. Would he and his bombastic nature dominate in prime-time TV? We hoped so. Now that the lines of fiction and reality have blurred to the horrifying extent that they have, those involved in the media must have their day of reckoning. People are buying our crap.
These days, we know the extent to which many reality TV shows are set up and edited and "frankenbitten," but we still call it reality TV—sometimes we even call it a "docu-series"—and over the past decade, correlations have been found between reality TV consumption and viewers' beliefs and behaviors. Recent studies have found that girls who watch reality TV are more likely to spend a lot of time on their appearance, that watching reality shows featuring "relational aggression" can make people more aggressive in their own lives, and that "heavy viewers" of shows like Jersey Shore and The Hills "believe women in the real world engage in bad behaviors (e.g., spreading rumors and verbal aggression) more often than do men."
Along with consumers' obvious taste for schadenfreude, the unabashed shallowness of reality TV is a big part of its appeal, a balm of easy stupidity for dark days. Viewers get to shut off their anxious brains for a minute and revel in a simpler world whose value system, whether it matches or opposes their own, is capable of confirming either worldview. For example, a socially conservative Bachelor viewer might appreciate the idealization of a heterosexual marriage between two white celibate Christians; a progressive viewer might scoff at this messaging, enjoying the show in part for its demonstration of the bland toxicity of such conservatism. Of course, there's more to it than that: that same progressive viewer might also find herself sucked into these storylines, admiring the perfect bodies of contestants, rooting for the "sweet" one—or glorifying the meanest, "craziest," most manipulative one, turning her into a meme, interviewing her.
A healthy sense of irony doesn't necessarily protect us from temporarily adopting, as viewers, some of these attitudes whether or not we've discarded them in our own lives. The slack-jawed suspension of disbelief required to enjoy reality television demands that we relinquish at least some analytical control. These shows can act as a kind of cultural pressure release valve, allowing the most progressive feminist media critics to laugh along with words like "fat" and "ugly" and "haggard" and "trashy" and "bitch" and "slut."

"I would ask people, do you think that reality TV has an impact on people?" Pozner recalled. "And a lot of the time they'd say yes. And I'd ask those same people, do you think it has an impact on you? And they'd say, 'Oh no, no, I'm way too smart. It affects other people.' We all think media affects everybody but us."
Despite its obvious effect on viewers, and a wealth of available background knowledge—the seemingly cursed former America's Next Top Model contestants; the dozens of suicides; the ugly Bachelor tell-alls; the constant stream of behind-the-scenes revelations, like, say, that Alexis Neiers, star of iconic reality show Pretty Wild, was on drugs the entire time—reality programs are still often considered innocuous entertainment, buoyed in part by the sheer volume and wide range of the genre that makes room for legitimately great shows (The Great British Bake Off, RuPaul's Drag Race) alongside insane ones (Dating Naked, Revenge Body With Khloé Kardashian). With the advent of social media and all its branding possibilities, even the well-worn notion that unpaid participants are getting manipulated can be undercut—a bored dental assistant might reasonably compete on The Bachelor to launch her new career selling laxative tea on Instagram, for instance. "They signed up for [insert horrible thing]," the argument goes.
Did we, though? Many players in the reality TV universe have recently enjoyed a dramatic shift towards mainstream approval, not-too-coincidentally mirroring the rise of Instagram, making it occasionally tough to discern exactly where reality TV ends and the 3D world begins.
Since Keeping Up With the Kardashians premiered in 2007, Kim Kardashian has landed a Vogue cover, Kendall Jenner is on billboards and Paris runways, and Kylie Jenner is the most-watched Snapchatter in the world. The well-known fact that their TV show is essentially fiction doesn't really lessen our sense of intimate acquaintance. Gigi and Bella Hadid, who were introduced to the world when their mother Yolanda joined the Real Housewives of Beverly Hills, are both supermodels now; the teenage daughters of Lisa Rinna, a fellow RHBH cast member, are attempting something similar. New York socialite Tinsley Mortimer, whose stint on a reality show in 2010 clinched her societal downfall, recently secured a Housewives role to, as Page Six phrased it, "rebrand herself," while Andy Cohen, Watch What Happens Live! host and Real Housewives reunion referee, has become something of a cult icon.

If the previously airtight spheres of high fashion and A-list celebrity have allowed reality TV to permeate, so has our increasingly raucous political system. In 2010, Sarah Palin starred in the reality show-cum-propaganda experiment Sarah Palin's Alaska, produced by, again, Mark Burnett, who last year revealed that he'd reached out to Vladimir Putin about a similar idea. Bravo's Southern Charm followed cast member Thomas Ravenel's long-shot campaign to oust Sen. Lindsey Graham, while the Duggar family has actively campaigned against abortion and LGBT rights, although they've been keeping a lower profile since Josh Duggar was found to have molested four of his 18 siblings. Former Bachelor star Ben Higgins announced this summer that he'd be running as a Republican for the 4th district of the Colorado House, later withdrawing his bid after ABC and Disney forced his hand. Approving Colorado GOPers thought Higgins would have a good chance, and he probably would have—the show that killed his political future, at least for the moment, had edited him into "perfect guy" material.
While fake news becomes everything and nothing, closing the gap between what we consume and what we believe, we turn to reality TV as a dumb, fun distraction. Sometimes, the distraction becomes the focus. Last month, for example, members of a Facebook group started by fans of the Real Housewives podcast Bitch Sesh called in to Watch What Happens Live! to accuse Housewife Kelly Dodd of having an affair with a man named Frank, whose information was subsequently spread across the web; Dodd denied the affair, and accused other cast members of tipping off the Facebook group.
Similarly, after a recent, extremely unflattering episode of Vanderpump Rules aired, stars Stassi Schroeder and Katie Maloney—whose bullying behavior, as the show depicted it, was immature and gross—were blasted on social media by followers calling them "evil" and "bitches," a now-standard interaction that underlines the reality TV audience's increasingly participatory (and credulous) role.
A frequent source of drama during Real Housewives reunion episodes, after all, is cast members retweeting rude comments about their coworkers and support for themselves, something you see from participants of many other shows as well—WAGS, Basketball Wives, etc.—who are livetweeting the experience for viewers, enhancing the drama and generating a feedback loop that often ends up playing out on TV later on. In another recent and high-profile blurring of reality lines, Blac Chyna's Instagram was allegedly hacked last weekend, revealing her plan to trademark the Kardashian name and leave fiancé Rob Kardashian. The two beefed publicly for a bit, and then Chyna announced she was leaving Rob—on the same day their E! special, Rob & Chyna Baby Special, premiered, lucky timing for the show's ratings.

So, are we destined to float around in some blurry truth purgatory, inserting ourselves into fake plotlines and snapping our jaws after bits of warped information like a swarm of blind guppies? In a hellscape that allows #Pizzagate to happen, anything is possible—but when it comes to reality TV, at least, signs indicate that we can at least try to adapt to our head-spinning circumstances. In the case of Blac Chyna, several media outlets and numerous fans expressed suspicion about the timing of the hack, although no ratings conspiracy has been uncovered thus far; over in Bachelor world, professional Bachelor spoiler Reality Steve has begun to receive more mainstream attention, while UnREAL, a dark drama created by a former Bachelor producer, has nudged audiences to think critically about the franchise (through fictional means, of course, which certainly complicates matters).

As a conspiracy theorist prepares to enter the White House, it's more important than it has ever been to understand what we're watching, what we're reading, and what we're creating. Jezebel has often found ways to cover reality shows without sacrificing realism or critical analysis; our tendency is usually to undermine the narrative rather than feed into it, and you can expect us to rededicate ourselves to this objective. Things are probably just going to get more confusing from here on out, and although it may seem like a small and desperate gesture, if Donald Trump is going to be conning America for the next four years, we sure as hell aren't bending over for Mike Fleiss.