Vanderpump Rules has done the unforgivable. With Stassi, Kristen, and Katie weaving tighter together like a Coachella braid from hell, the Bravo show has somehow—and no one's more surprised or horrified than me—made me feel pity for the awful Scheana Shay.

I can't say that this season of Vanderpump Rules has been a particularly revelatory or enticing one: The central feud revolving around Katie Maloney—who, at this point, is less of a human and more of a swamp with bangs—and Lala Kent felt stale from the jump. Katie hates Lala for calling her "blob" and talking shit about her engagement to Tom Schwartz and Lala feels bullied, which—to her credit—is true. That she's been sleeping with a married man (a rumor that very well could be true) seems less worth investigating than the false moral high ground upon which the other SUR waitresses and cast members judge her. (Remember: This whole show is spun-off from Scheana's affair with Eddie Cibrian, ex husband of former Real Housewife Brandi Glanville.)
On Monday night's episode, Ariana attempted to settle the feud between Katie and Lala by having a sit down with the two, as well as Scheana, and getting them to settle their differences—or at least put them aside while they're working. Unfortunately, Ariana approached the situation as if she were dealing with reasonable, thoughtful human beings, rather than blood and attention thirsty chupacabras and it quickly fell apart. Katie, despite demanding that all her friends hate Lala (or else they might lose a coveted role as bridesmaid in her upcoming nuptials), insisted that their grudges with Lala weren't about or because of her. Then, when Scheana told Lala that she was sorry "if" she spread any false rumors about her, Katie flipped her goddamn lid—and got Stassi and Kristen to do it with her.
There's something remarkably painful about watching (and yet here we are!) a group of adult women, all within five years of 30, attempt to take down their friend with tactics the rest of us left behind in middle school. As a punishment for her half-apology, Scheana received a barrage of abusive text messages from her "friends," calling her repulsive and fake for befriending Lala—something she never actually did.
G/O Media may get a commission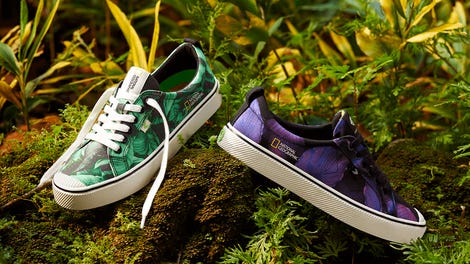 New New New
Cariuma + National Geographic
Conveniently, the SUR crew was forced to gather again for a surprise party celebrating the Beard and Smudge, Kristen's faceless boyfriend and Scheana's faceless husband, respectively. As with any gathering of bog people, the party began with Katie, Kristen, and Stassi ostracizing Scheana.
"Do you think this is a bad look that the three wicked witches are together doing this," Stassi asked as she watched Kristen make a communal margarita in a baby pool. "...Yesterday when I was with Jax, Jax was telling me that Scheana went over to his crying that we're so mean to her. I'm like, "We haven't even got a chance to be mean to you yet.'"
While Stassi's mean barbs used to be entertaining and maybe even refreshing in the early seasons, they've recently taken on a pathetic desperation that can only be described as sad. Perhaps it's because most of her ire used to be focused on worthier targets like Jax and Kristen, whereas now she's being mean to "defend" Katie, a wholly unlikable person, in a mostly pointless story arc.
Later, after Scheana is confronted one-on-one by Kristen, Stassi decided that she needed to have a one-on-one of her own and attempted to launch a full-on emotional assault. Sadly for Stassi, the attack did not go as planned. Wisely (a word I never thought I'd associate with Scheana), Scheana asked Ariana to join the conversation and serve as fact-checker to Stassi's groundless accusations and Stassi, for as much of a bully as she is, could not take the relatively low heat.
As is Stassi's wont, she ran from the conversation blubbering and found a more receptive audience for her bullshit. Later, again the majority, she, Katie, Kristen, and That Comedian They Hang Out With attacked Scheana with renewed vigor and venom.
"Stop being a bitch," Stassi screamed at Scheana. "Stop being an asshole."
"You're trying to make me look bad," Katie said, piling on.
Does she not realize that they're making themselves look bad? Apparently not because after the episode aired, Stassi took to Twitter to blame (perhaps rightfully) editing for her bad look and—ironically—beg fans of the show to stop bullying her.
Katie has taken a similar line of defense:
What their "side" is, neither attempts or are able to explain.
It's a given that Vanderpump Rules—and all other reality TV—is a product of behind-the-scenes manipulation and editing, but what's interesting is that it never seems to bother anyone until they get unfriendly edit. It's fun being the revered Queens of Mean. Less fun, however, is when your subjects finally turn on you.