Above, you'll find a video of the most incredible day of my life.
Kristen Doute is a cast member on Vanderpump Rules, which just wrapped up its third season following a group of amoral, sexually indiscriminate friends who work at Real Housewife Lisa Vanderpump's West Hollywood restaurant, SUR. Kristen is the unofficial "villainess" of Vanderpump Rules, and in an average scene she can generally be relied upon to be either sobbing, scheming, or telling someone to "walk the fuck away."
The idea for this interview, since I had a cold, was to somehow get Kristen drunk without drinking too much myself, but this gal was going sip for sip and I couldn't back down. Since Kristen is something of a racehorse in terms of alcohol tolerance and I am closer to, say, a hamster, this plan resulted in me getting wasted and saying things like "samesies" out loud, on camera.
I was hopeful that at some point during our conversation Kristen would confront me, Bravo-style, over the extremely unflattering ode to her crazy that I wrote back in December, but no—this amazonian reality star (she wore 8-inch heels with "Las Vegas," "New York," and "Miami" emblazoned on the straps) was nice as hell. She doesn't know what Brooklyn is and her favorite descriptor is "ratchet"; I immediately felt a deep, confusing sense of kinship.
After the interview, I invited Kristen back to the Gawker offices, which was, in retrospect, a bad idea; nobody got up to say hi to her except a very flushed Kate Dries, but someone did start playing Kristen's baby-voiced co-star Scheana Marie's hit single "Good As Gold" over the office sound system.
G/O Media may get a commission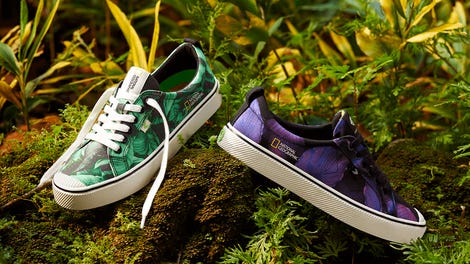 New New New
Cariuma + National Geographic
"Who the fuck is playing that song?" demanded Kristen, finally giving me the confrontation I craved—but, tragically, saving it for after the cameras were gone. "I know one of you assholes is playing this!" she yelled wildly at a silent room of cowardly nerds typing furiously at each other. I was too drunk to deal with this alone and just sort of swayed back and forth, making sympathetic noises. "I'm going to call Scheana," she announced, which seemed to be a questionable choice, considering Kristen had recently described their relationship as "not chill."
Kristen put Scheana on speaker. "I'm at Gawker, and some asshole is playing your song," Kristen yelled. Then she handed the phone to me. "Hi Scheana," I gurgled. "Hi Ellie," Scheana sighed. "I have to go."
I stared blankly at my computer screen for the rest of the day, too drunk and excited to blog.
---
Shot & edited - Nicholas Stango
Sound - Chris Person
Producer - Devin Clark
---