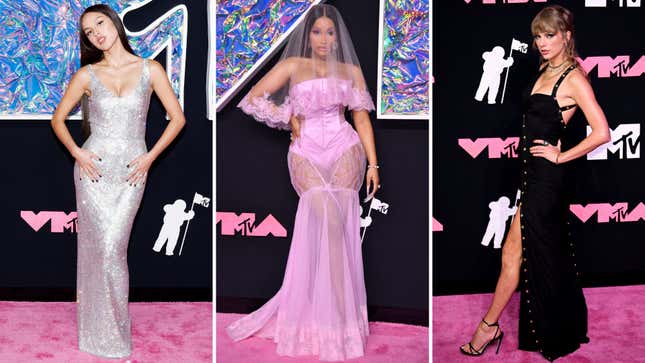 If you can even believe it, the 2023 MTV VMAs are tonight. The 2023 MTV Movie and TV Awards before them consisted of a weird and unfortunate pre-taped ceremony, since the WGA writers went on strike days before. (It felt like watching what AI might imagine an awards show to be, and it was awful. Writers are important!) But since most musicians aren't affected by the WGA and now SAG-AFTRA strikes, we're being treated to performances and, most importantly, red carpet looks.

And the looks are...incredible?! Maybe it's because summer just ended or maybe it's just because the VMAs usually give us some...outlandish...ensembles, but (in my opinion!) everyone's arriving in looks that are sleek, chic, and pretty jaw-dropping. It's not the most out-of-this-world carpet we've ever seen, but it's definitely stunning. Happy for all the wealthy musicians using their wealth to make them look wealthy <3
Beyond looks, Nicki Minaj is hosting; we're getting an all-star celebration of the 50th anniversary of hip-hop; Shakira's getting the MTV Video Vanguard Award; Sean "Diddy" Combs is getting the Global Icon Award (and performing for the first time since 2005); Taylor Swift already has the most nominations of the night; and Olivia Rodrigo, Fall Out Boy, A Boogie Wit da Hoodie, Lil Wayne, Megan Thee Stallion, Cardi B, and a bunch of others are scheduled to perform. Lots of fun stuff!
But first, the red pink carpet looks.