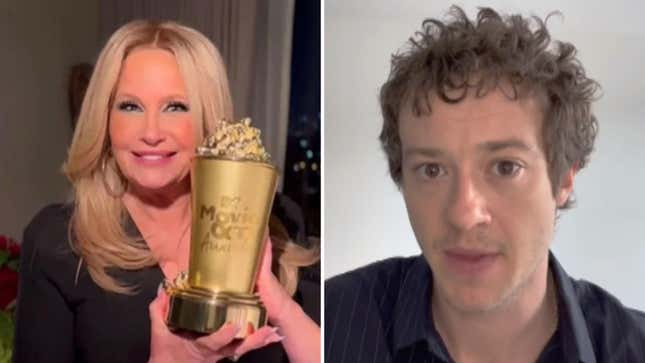 In the week leading up to Sunday night's 2023 MTV Movie & TV Awards, the supposed-to-be-live broadcast quickly unraveled. The Writers Guild of America authorized a strike Tuesday night. Drew Barrymore pulled out as host in solidarity; the red carpet was scrapped; and on Friday, Paramount officially announced that the live broadcast was canceled. Instead, it decided to air an evening of pre-taped clips and throwback moments. And wowza, was it lame.

Olivia Holt Didn't Originally Get the Part of Roxie Hart in 'Chicago'
In addition to fair wages, part of the WGA strike (if you're still not clear on the who, what, and why, this explainer will get you up to speed) is that writers want studios to stop developing, investing in, or using artificial intelligence for script writing or rewrites. As it happens, studios need only watch Sunday night's ceremony to be further convinced they shouldn't use AI, since it felt like how AI would imagine an awards show.
Instead of a stage, audience, and live performances, the ceremony really, really relied on about a hundred million montages of all the "best, iconic, funny, etc.," moments in MTV Movie Award history—the likes of which already exist in an infinite number of slideshows on just about every single entertainment site. There were a couple of prerecorded bits starring Barrymore (one in which she reprised her role as Josie Geller), which were fun but, of course, written before the strike by the very writers who are now striking. Some past presenters' bits were relived too, like when Sacha Baron Cohen flew in on a wire and straddled Eminem's face over a decade ago (written by writers, of course). We also got a bunch of random 30-second clips of past performances, like TLC's 1995 performance of "Waterfall," Katy Perry and Snoop Dogg's 2010 performance of "California Girls," and the 2000 performance of "Lady Marmalade."
All of *this* was narrated by and the 2023 awards were presented by a nameless, faceless male voice that said things like "Cheetos popcorn congratulates Outer Banks for Best Kiss" and "Congratulations Adam," for when Adam Sandler won Best Comedic Performance for Murder Mystery 2.
Only about six celebs sent in prerecorded acceptance speeches—including Tom Cruise, who accepted the award for Best Performance in a Movie from a plane, saying, "Thank you for letting me entertain you, it's an absolute privilege" (gag), and did not mention the writers' strike.
But Jennifer Coolidge, while accepting the Comedic Genius award, did: "As a proud member of SAG, I stand here before you tonight, side by side, with my sisters and brothers with the WGA that are fighting right now, fighting for the rights of artists everywhere." Joseph Quinn, while accepting the Breakthrough Performance award for his role on Stranger Things, did as well: "Being a writer is a hard job and it deserves respect, and I think the more we respect each other we can cultivate a kinder, more inclusive, more collaborate environment...for everyone." Pedro Pascal, who accepted awards for Best Hero, Best Duo, and Best Show for The Last of Us, waited until his third acceptance video to shout out the strike: "We are all...standing in solidarity with WGA."
And Ghostface, maybe, possibly, while accepting the award for Best Fight, also did?: "Movies don't create psychos, movies make psychos more creative, and I'm looking forward to a lot more creativity." Is Ghostface in SAG?
Mostly, the viewer experience felt like being inside Black Mirror's "15 Million Merits" episode...where people compete in a singing competition with the hopes of escaping a laborious life. I listened to a robotic voice list off the names of nominees and then watched winners thank us in little iPhone-recorded videos of them, just like, sitting in a room.

So it turns out the only thing worse than an uneventful three-hour awards ceremony for a bunch of celebs celebrating themselves...is an uneventful two-hour awards ceremony that didn't have anyone writing it.