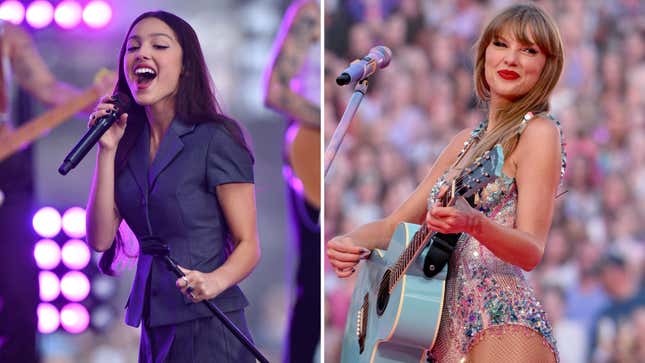 I like to believe our society, as a whole, is enjoying a post-pitting-women-against-each-other era. So I need to make clear that, as a Swiftie and an Olivia Rodrigo fan (Rigoes? Oliviators? Rodias?), I am not asking who is a better singer, performer, songwriter, 19-year-old, person, woman etc. I am merely begging to know, after reading Rodrigo's Rolling Stone profile, If There Is Beef and What The Beef Is.

Taylor Swift's Rep Thinks You Need to Calm Down About Her Private Jet
So I did some investigating. A quick recap: Rodrigo has long considered herself a Swiftie, telling Sirius XM in 2021, "I feel so lucky that I was born at the right time to be able to look up to someone like her. I think she's incredible." This was around the time Swift sent Rodrigo a $3,200 ring and "handwritten note" to celebrate the success of "Driver's License" and wish her luck ahead of her debut album Sour's release. They met in person at the Brit Awards and posted cute photos together. Also in 2021, Swift posted a video of Rodrigo and Conan Grey singing along to "You Belong With Me" the night she released Fearless (Taylor's Version), calling Rodrigo and Grey "my two kids."
Then Sour was released in May, and for all its critical acclaim, Rodrigo weathered a fair amount of backlash that some of the songs were a little too similar to other popular songs. Namely, that "Good 4 U" sounded like Paramore's "Misery Business." This led to Rodrigo retroactively giving Hayley Williams and Paramore's ex-guitarist Josh Farro writing credits on the song. "Deja Vu," which Rodrigo often said was inspired by Swift's "Cruel Summer," eventually listed Swift, Jack Antonoff, and St. Vincent as co-writers. "1 Step Forward, 3 Steps Back," which was inspired by Swift's "New Year's Day," listed Swift and Antonoff as co-writers as well. All these credits were considered interpolations, which is similar to sampling but less obvious. At the time, it seemed like standard behind-the-scenes music business affairs and that everyone was cool with it.
Billboard eventually confirmed that these songwriting credits meant Rodrigo gave up millions of dollars in royalties. Then, in an interview with Time in December 2021, Rodrigo said of the backlash to her songs' interpolations: "It was really frustrating to see people discredit and deny my creativity." Her producer on Sour, Dan Nigro, added: "It seems like people get funny about things when songs become really popular."
After all this, the social media lovefest between Rodrigo and Swift seemed to come to a complete halt. They both attended the 2023 Grammys and were seated near each other but were not seen interacting; Rodrigo told the New York Times she didn't attend Swift's Eras Tour; even Grey told the Zach Sang Show in December that he had yet to listen to all of Swift's Midnights.
Then comes June. Rodrigo releases "Vampire," the first single off her sophomore album, Guts, and fans immediately share theories that lyrics like "bloodsucker, fame fucker, bleedin' me dry like a goddamn vampire!" are about Swift. Rodrigo only fanned these theories when the Guardian recently asked her, point blank, if the song was about Swift: "How do I answer this? I mean, I never want to say who any of my songs are about. I've never done that before in my career and probably won't. I think it's better to not pigeonhole a song to being about this one thing," she responded.
Guts was released on Friday, and another song on its track list, "The Grudge," has quickly been deemed a veiled hit on Swift.
Which brings us to right now. (Maybe that wasn't the quickest recap, but hopefully you feel informed. There's a ton I left out!) For its latest cover story, Rolling Stone also asked Rodrigo about Swift and her answer was, finally, a little more definitive (if not completely convincing).
"I don't have beef with anyone. I'm very chill. I keep to myself. I have my four friends and my mom, and that's really the only people I talk to, ever. There's nothing to say," she told the magazine. "There's so many Twitter conspiracy theories. I only look at alien-conspiracy theories." (Great answer.)

She further admitted that she was a bit thrown by needing to add the songwriting credits on Sour:
She maintains this stance when I ask about the Sour co-writes, which, by August 2021, also included Paramore on "Good 4 U." "I was a little caught off guard," she says. "At the time it was very confusing, and I was green and bright-eyed and bushy-tailed. Is that the phrase?" It's unclear if Rodrigo was forced to give the credits: "It's not something that I was super involved in," she admits. "It was more team-on-team. So, I wouldn't be the best person to ask."
And that was all she wrote. For now. Rodrigo is scheduled to perform at Tuesday night's VMA Awards—which Taylor is rumored to possibly be attending. (But also, because it's Taylor, possibly not.)
Regardless, stream Guts, which is a fucking triumph of a second album, and go see Taylor Swift: The Eras Tour in theaters, which is a fucking triumph of a stadium tour. I just know there's a collab between these two powerhouses at some point in our future.