What does it say about reality television in 2015 that the majority of the Jezebel staff's favorite moments are from shows that aired on Bravo? We know Survivor's still on the air, but there's clearly just one network worth paying for cable for in this day and age (just kidding—praise the Lord for mom's Time Warner login and blogger screeners) and its king is Andy Cohen.
Cohen's team of minions is so brilliant they created Vanderpump Rules, which you'll note has not one but two mentions on this year's list of outstanding reality moments. "Dumb" in the world of reality television is roughly equivalent to "fucking brilliant and deserving of an Emmy," and 2016 looks like it'll be even brighter for Bravo (and for us): Get ready to say Welcome to Potomac!
The Dancing with the Stars Disney episode was PEAK Dancing with the Stars, a prime opportunity for the show—which airs on ABC, which is owned by Disney—to make money on multiple properties and make people do insanely embarrassing things that they're pretending aren't actually that embarrassing. That Dancing with the Stars exists at all boggles the mind; that they aired this episode at all makes surprising sense. What doesn't: that ABC has removed all the videos of the performances from YouTube. We'll still never forget, guys.

Fly two women out to the desert with the man they're squabbling over in a "steamy chopper full of hate" and you are guaranteeing yourself a good episode of television. That these women fell right into that trap—tears and nasty comments included—says more about the brilliance of the Bachelor franchise than it probably does about them. The best part? The slow panorama shot at the end, as Bachelor Chris flies away after choosing to reject both women, leaving Ashley and Kelsey alone in the desert, sitting separately. A beautiful depiction of tragic heartbreak.
G/O Media may get a commission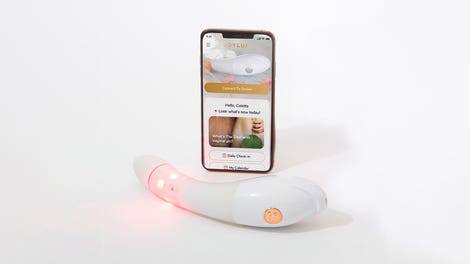 $50 Off
Joylux vFit Gold Device
Married at First Sight purports to match couples with the help of four experts in different fields—a sexologist, a psychologist, a sociologist and spiritual advisor. In theory, they use their knowledge to find and match people who are compatible in the most important ways. However, this is a reality television show and reality television shows have producers.
With Jessica Castro and Ryan De Nino, the "experts" spent much of their time going on and on how about attractive they both were. It's sort of fair—they are both above-average attractive people—but attraction alone does not a healthy marriage make. Regardless, Jessica and Ryan were legally married and spent an excruciating six weeks together which resulted in Jessica filing a restraining order against her (now?) ex-husband.
But at least they would have had pretty babies, right?
During a Bravo-sanctioned trip to the Turks and Caicos the ladies of the Real Housewives of New York spent much of the time exercising the exact lack of chill that we've come to expect from them. Everything came to a head when Luann and Ramona got their grooves back with some random hotties—one of whom they let stay in a spare bedroom in their Turks and Caicos palace. Heather and Carole woke up to the sight of what I'm sure was a handsome ass in the room next to them and they lost. their. shit.
Nobody's rationale made a lick of sense: Heather and Carole largely whined about how their jewelry could have been stolen. This is how you know Heather and Carole have always been rich: because they've clearly never had three other roommates who brought random people back to the apartment after a night of heavy drinking. So uncool.
By definition, Love and Hip Hop doesn't make much sense. Whether or not it's more scripted than other reality shows, it certainly comes off that way. During the reunion episode for Love and Hip Hop Atlanta, Joseline Hernandez revealed that she had a threesome with her husband Stevie J and his baby mama Mimi Faust. This might not be all that shocking if it weren't for the fact that Mimi and Joseline have hated each other the entire time they've been on the show.
A few minutes after this revelation, the two women happily made up, tying things together nicely for Joseline and Stevie J's upcoming spin-off show. We all know none of this is real but, come on, somebody could have written a better ending than this.
Kristen Confronting Tom on Vanderpump Rules (CH)
Everyone's favorite psychotic bartender Kristen Doute decided to confront her ex-boyfriend Tom Sandoval about a supposed tryst with a woman in Miami (cleverly nicknamed "Miami Girl"). The theory was that Tom had cheated on his new girlfriend Ariana (Kristen's nemesis) with this woman. Kristen's method of carrying out the plot was to bum-rush Tom with Miami Girl while he was working the bar at SUR. It's the most foolish ploy ever and none of it works because Ariana still didn't believe the story. And now, they're still together.
The fact that I was able to recount this from memory hurts me deeply.

After an alleged hook-up with Mike in Turkey—which his fiancee Jessica didn't know about and which he clearly seemed to be lying about or telling half-truths—GG took a polygraph test to try to prove she was right about Mike trying to proposition her. Sadly and hilariously, the first lie detector test ended up inconclusive, which made GG upset. So she took a second one. The results don't even matter because the whole thing was insane.
This was hands down the silliest event I've ever seen on reality TV. Porsha threw a surprise party to introduce her new boyfriend Duke to her family and friends. Let me repeat that. She threw a surprise party. To introduce her boyfriend. For the first time. To the most important people in her life. After dating for a few months. She also gave him an MVP trophy and I wish I made this up.
James, an alcoholic British DJ and with a gigantic head and a tendency to overshare about his sex life, has moved on from Kristen to Lala, Vanderpump Rules' new annual hostess that all the men want to sleep with and all the women gleefully shun. Kristen hears about this new pairing, and informs Lala during a casual evening at the club that James was calling her a slut behind her back. ("I know I'm not a slut, I know I'm not a whore, 'cause obviously I'm not getting paid for sex, which would be dope," Lala explains in an interview.)
The two immediately forge a bond and head back to their booth, where Lala, increasingly my new favorite cast member for her tendency to say things like "let's get it poppin'" in a really weird deadpan way, tells James to fuck off. In return, James calls her a "basic bitch," and that is where Scheana—who has thus far been very mean to Lala, because she thinks Lala is a prostitute (related: Scheana is awful)—draws the freaking line: "James, you don't speak to any woman like that, ever, that is so rude and degrading and I'm so not a feminist! But stop!"
I feel like there should be some kind of takeaway here about the internalized misogyny of Scheana Shay but this was honestly so dumb and incredible that I'm having a hard time wading through my feelings.
Last season of the Real Housewives of Beverly Hills was centered, distressingly, around Kim Richards' refusal to acknowledge her substance abuse issues (she has since sought treatment), which reached a fever pitch during a girls' trip to Amsterdam. They all went out to dinner one night, during which Lisa Rinna attempted to apologize to Kim for asking questions about her sobriety. Kim did not accept her apology, instead saying "I'm concerned about you!" and implying that Lisa's husband was cheating on her. After Eileen jumped to defend Lisa, Kim whirled on her, shouting, "Shut your fucking mouth, I've had enough of you, you beast."
"Beast? How dare you," Eileen responded, in a dignified soap opera stage whisper. "I've never found one thing to like about you, from your hair to your face to your attitude," Kim said to Eileen, in the weakest dis that ever was. She then brought up Lisa's husband again, and Lisa broke a wine glass and threw it at her. It is truly unbelievable to me that these same ladies, not 24 hours later, felt it would be too inappropriate to consume space cake on camera.
Images via screenshot.