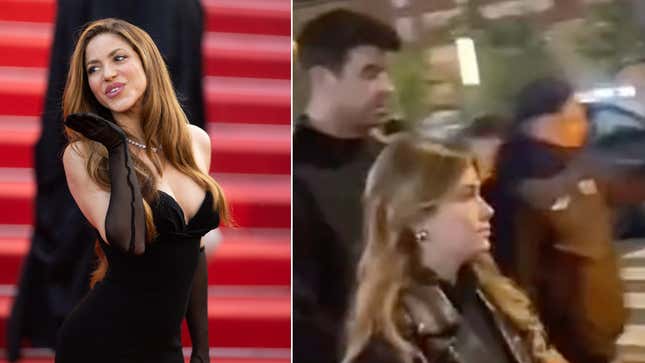 Please remind me not to cheat on Shakira, not that I would ever need that reminder.
Taylor Lautner Doesn't Even Remember Saying 'Bella! Where the Hell Have You Been Loca?'
Shakira's ex Gerard Piqué, a professional soccer player who reportedly cheated on her with his current girlfriend Clara Chia, was reportedly refused entry to a Barcelona restaurant alongside Chia last week. A viral TikTok shows the two leaving the Japanese restaurant shortly after they entered it.

In the video's caption, the TikToker claims the duo were denied entry because the restaurant owner is a Shakira fan. The video's comment section is alight with fan commentary and speculation: "The restaurant owner is more faithful to Shakira than Piqué himself," one commenter wrote.
"I would not have taken them out in his place, I would have played all Shakira's songs on them," wrote another.
The video is short, and Piqué, Chia, and Shakira have yet to comment on the alleged incident. But it wouldn't be the first time Pique has very publicly been taken to task over rumors about the affair: Last summer, shortly after news of his alleged infidelity surfaced, the footballer was booed by both his own team's fans and the opposing team's.
He's since been very loudly booed at nearly every public appearance, from an NBA game in January month to a Twitch award ceremony earlier this month. He's even been the subject of massive, taunting carnival floats, specifically invoking Shakira's lyrics in her revenge track about him, "Out of Your League": "I'm worth two 22-year-olds / You traded a Ferrari for a Twingo / You traded a Rolex for a Casio." See below:
In the public imagination, it's very clear who won over our collective goodwill amid the split, and believe it or not, it wasn't the philandering husband who stepped out on his international pop sensation wife and mother of his kids with a woman half her age. There's been little goodwill toward Chia, either, amid (admittedly murky) reports that Shakira discovered the affair by noticing that someone (Chia!) was eating her strawberry jam when she was away, despite the fact that Piqué and their kids don't eat jam.
I'm all for Shakira's next career arc of badass revenge soundtracks and TikToks of her lip-syncing to SZA lyrics about killing her ex (in some cases, very bizarrely mopping a kitchen carpet…?). But I would also very much support a pivot to P.I. work and helping other women catch their cheating husbands in the act.
Once again—and you'd think this was self-explanatory!—if you're going to blatantly cheat on Shakira and leave her for a much younger woman, I'd suggest just ordering take-out for a while.