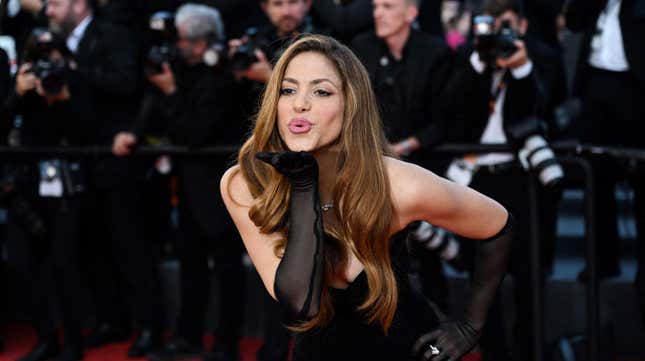 It's not a full moon but Shakira fans are howling over the Colombian singer-songwriter's new breakup track. Late Wednesday, Argentinean producer Bizarrap released a video of a recording session titled BZRP Music Sessions #53, that sees our favorite Grammy-winning she wolf—looking better than ever, by the way—seemingly ripping her ex-partner and soccer star, Gerard Piqué, to shreds.
Taylor Lautner Doesn't Even Remember Saying 'Bella! Where the Hell Have You Been Loca?'
"I'm not getting back with you, don't cry for me, nor beg me/ I understood that it's not my fault that they criticize you/I only make music, sorry that it bothers you," she sings, per an English translation of the Spanish-sung overnight hit. "You left me the in-laws as my neighbors, media outlets at my door and in debt with the government/ You thought you hurt me, but you made me stronger/ Women don't cry anymore, they cash in."
"What was more culturally significant: the renaissance or Shakira BZRP #53 ?" one fan tweeted upon its release. "Shakira really came to say YEAH, I'M STILL THAT B*TCH," wrote another.

The dissolution of Shakira and Piqué's relationship has steadily supplied tabloids with new headlines for months. The pair made their public debut in 2012, after having been introduced in 2010. By 2013, they welcomed their first child, Milan, and two years later, announced the birth of a second son, Sasha. It was all appeared like domestic bliss until June 2022, when the former couple announced their split in a joint statement: "We regret to confirm that we are parting ways. For the well-being of our children, who are our highest priority, we ask that you respect their privacy. Thank you for your understanding."
Two months later, Piqué was spotted with a 22-year-old, who eagle-eyed fans recently discovered was in the picture (more specifically, the background of his Zoom interviews in the home he shared with Shakira and their children) long before the breakup announcement. Shakira was devastated; apparently, they were very much still together. Talk about a beautiful liar!
Shakira is also embroiled in a tax-related scandal, with the Spanish government claiming she owes $15 million in back taxes. She's fighting the charges in court, though the new song's lyrics seem to hint that Piqué may have something to do with it...
With the exception of the latest track—on which she likens her ex's new girlfriend to a "Twingo" and a "Casio"—Shakira has yet to address the cheating scandal. She has, however, previously discussed the many sacrifices she made to make their relationship work—namely, putting her career on hold in lieu of his.

"One of the two had to make that effort and that sacrifice. And I did it. I put my career in second gear, and I came to Spain to support him so he could play [soccer] and win titles. And it was a sacrifice of love," she said in September.
Welp, it's safe to say that career of hers is no longer on hold. Less than 12 hours after its release, the dance track had already racked up over 25 million views on YouTube, and continues to trend on Twitter.

For your reading pleasure, the full lyrics.
---