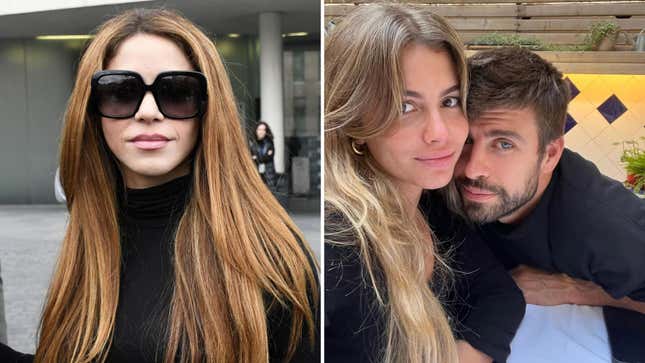 Everyone responds to breakups differently. Some of us try bangs, become gym rats, and embark on a new diet. Others finally develop a personality, or hurl themselves right back into the dating pool, un-lifeguarded and contaminated by casualties and the turds no one bothers to fish out. In the case of Shakira and Gerard Piqué, well, they're currently in the trenches of the pettiest parting of the hearts since Olivia Wilde and Jason Sudeikis.
Crush of the Week: Daniel Radcliffe's Weird Al
Who could've predicted that their June 2022 split, announced via amicable joint statement, would soon be followed by a pending tax evasion trial, a life-size witch doll positioned to survey a certain mother-in-law's home, a breakup bop, a jam jar, and a lot of affair speculation? Alas, here we are, forcibly on the front lines. Unfortunately, thanks to Piqué's latest bomb, a ceasefire doesn't appear imminent.
Like many men in messy divorces, the soccer star thought now was the time to hard launch his 23-year-old girlfriend, Clara Chia Marti, on Instagram. I'll note that just two months after he and the mother of his children made their separation public was when Piqué was first publicly spotted with Marti. Eagle-eyed fans, however, have recently deduced that she was actually in the picture (more specifically, the background of his Zoom interviews in the home he shared with Shakira and their children) long before the breakup. Shakira was devastated; apparently, they were very much still together.
The caption-less photo shows the new couple posing for a lame selfie—the kind that Piqué has been fond of for a while now. Don't believe me? I invite you to scroll through his timeline and giggle at the rows and rows of blank-faced self-portraits. Seriously, this bear has more range.
The latest post, as Jezebel has noted, is only the latest discharge from Piqué's war chest. Last week, in the wake of Shakira's latest track wherein she likened his new girlfriend to a Casio and a Twingo (a very low-budget vehicle,) he was spotted showing up to an event in the $9,000 car and was rumored to have partnered with Casio (the latter was recently disputed). It's...a lot.
Your move, Shakira.
---
It sounds like KeKe Palmer is having a baby boy! And a Pisces! [Page Six]
Emily Ratajkowksi and Eric Andre are kissing in the Caymans. Do we think Armie Hammer helped with their itinerary? [Just Jared]
Meanwhile, two other lovers face looming separation...from ABC, that is. Mediation between T.J. Holmes and Amy Rohbach's attorneys and the network begins today. [TMZ]
Julia Fox gave TikTok a tour of her modest apartment and revealed she and her two-year-old son share a bed ("sue me!"); a dislike for excessive houses ("It's just really wasteful when there is just so many homeless people in this country."); and a minor mice infestation (a fixture in any New York dwelling.) [NY Post]
There ya go, buddy! A certain Elvis impersonator (Austin Butler) has finally credited his former "partner" with the Oscar-nominated role I wish she never encouraged him to take. [E! Online]
"I ran out of toilet paper brother, help!!!!!!!!" Hulk Hogan tweeted before swiftly, er, wiping it from his TL.