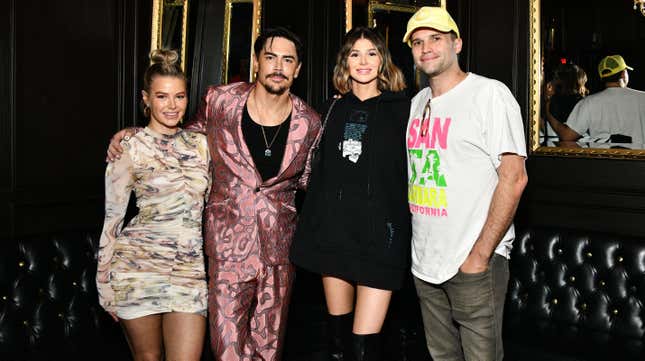 It's not often that one has the privilege of witnessing a shitty dude's affair get exposed nearly in real time. Sure, people cheat all the time, we know this. But to be able to hunker down on the couch after a long day and scrutinize the stolen glances and stupid smirks of a man who's certain he's going to get away with fucking his castmate on one of the most watched reality shows on air? Well, that's an experience deserved by all.
Raquel Leviss Told Us 'I'm Like, A Good Person' Just 48 Hours Before #Scandoval
On Wednesday's episode of Vanderpump Rules, the first signs of #Scandoval shocked viewers as Tom Sandoval and Rachel "Raquel" Leviss get sloppier and sloppier with their uh, liaison (which was secret at the time of filming). First, there's an uncomfortable scene at SUR when Sandoval invites Leviss to squeeze in next to him on a couch, and then proceeds to sit a little too close and allow his gaze to linger a little too long. Even their boss, Lisa Vanderpump, takes note.
"Why do you like it so much?" she prompts Sandoval. "You've got a smile on your face." Smile my ass; the man could be cast as the Cheshire Cat in the next live action Alice In Wonderland.
Then, the unequivocal dark horse of the season, Ally Lewber (bad DJ, James Kennedy's girlfriend), makes a startling revelation in a confessional: "I saw Sandoval and Raquel dancing together at The Abbey" after Kennedy's set at SUR. Ope! Not only does Lewber discuss the sighting with producers, she shared it off-camera with her fellow castmates, and again, to Kennedy.
"I thought it was kind of weird, because it was like 1 a.m. and we were like, 'Where's Ariana?'" Lewber said, referring to Sandoval's now ex-partner of nine years, Ariana Madix.
"I personally wouldn't be comfortable with it, I guess, to have my boyfriend out at 1 a.m. with girls," Lewber noted in her confessional. "But everyone's different." Are they though???
Finally, as the episode comes to a close, suspicion has mounted so much among the group that Katie Maloney addresses Sandoval's apparent fascination with Leviss with the aid of some truly admirable passive aggression.
"You get a lot of joy out of Raquel as well, I think," she told Sandoval, making him aware that the group knows of their night out at The Abbey. This, of course, doesn't go over well.
"Dude, what even the fuck are you saying?" he replied. "Dude, get the fuck out of here man." I believe that is what we call protesting too much.
The explosive episode arrives in the wake of Sandoval's dumpster fire of an interview with Howie Mandel; an equally bad appearance by Tom Schwartz, Sandoval's castmate and business partner, on Watch What Happens Live, in which he confirms he's known about the affair since August (when this season was being filmed); and Madix's debut of a new boo at Coachella.
It truly is all happening, folks. And fans (well, me at least) will never be the same.

---