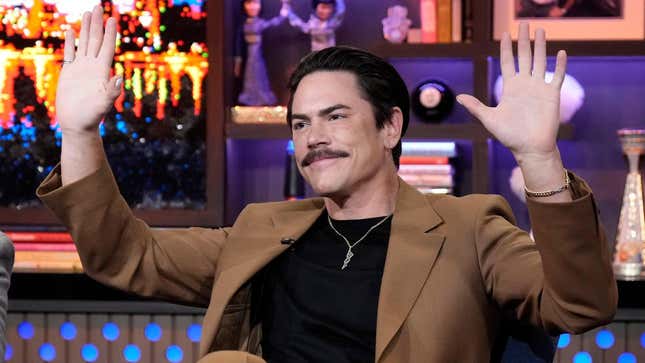 On Tuesday, Vanderpump Rules' Tom Sandoval—otherwise known as the man whose deceitful dick pumped new life into the once-flaccid Bravo franchise—gave his first sit-down interview post #Scandoval to a game show host. For some reason, this decision—devoid of any real media savvy or strategy—arrived as something of a surprise to several publications, including Vanity Fair's Savannah Walsh, who surmised Sandoval "isn't very good at this." This, I presume, is an attempt to maintain some semblance of respectability to which I respond: Duh. Anyone who engages with Bravo should know better.
Raquel Leviss Told Us 'I'm Like, A Good Person' Just 48 Hours Before #Scandoval
To be clear, Sandoval doesn't need to be adept at crafting and conserving a narrative. That's not his job. He should, however, be good at making me feel better about the state of my own life. Thus, after his recent tell-all with Howie Mandel, he deserves a raise—in addition to a daily sucker punch, of course. That Sandoval chose to open up on the Deal or No Deal man's podcast is perfect in and of itself—but the divulgences he brought out of the silver suitcase of his soul merit some unpacking.

Over the course of one hour and 19 minutes, Sandoval shared the following: His first kiss with mistress Rachel "Raquel" Leviss in August 2022 was "magnetic" and took place in the backyard of the home he still shares with his former partner of nine years and current castmate, Ariana Madix; despite their ugly split, he currently lives with Madix given he "doesn't have a lot of friends" he can stay with at the moment; and finally, that he and Leviss are on "a break" right now.
All of it's egregious, especially considering how comically grave Sandoval appears throughout, but 24 hours later, I can't stop thinking about the way he discusses his sex life—or supposed lack thereof—with Madix:
I accepted it—I was like, Okay, you know, Ken [Todd] and Lisa [Vanderpump], they probably don't have sex all the time. This is probably how it is.…I got porn, I got whatever. I can just go crack one off in the bathroom. But there were so many other perks [to being in a long-term relationship]. The building of the brand, the everything, the image of it all.
For the Pump-illiterate, Ken and Lisa are technically Sandoval's bosses, thus, the fact that he thought to measure the intimacy of his relationship against what he perceived of theirs is...pretty fucking weird.
He also went on to describe attempting to play matchmaker for Leviss and his longtime friend, castmate, and business partner, Tom Schwartz. Whether this is true, or—as some viewers have suspected—simply a decoy for his own dalliance with Leviss, remains unclear. What's explicit, however, is Sandoval's attempt to absolve himself by indirectly heaping some blame on his former partner who he claimed was simply "in denial" about the state of their sexless relationship.
"I was seeing Raquel as often as I could, which I know that sounds horrible, and FaceTiming her all the time, and, like, Ariana just really didn't even notice, because that's just how separate our lives were," Sandoval asserted.
"We would travel more by ourselves than we would together. I would go to weddings by myself," he added. "I love Ariana. I still love Ariana and I care about her very much so, but we, for a while, had been sort of having our own lives."
In response to whether or not they were still together when #Scandoval broke, Sandoval claimed he'd ended things with Madix "two weeks earlier," but she refused to accept it even days afterward.
"A couple days later, I sit down and talk with her again, and she's like, 'I'm not letting you leave me. You're going to have to force me out of this relationship,'" he recalled. "And I was like, 'Ariana, I don't think I could be faithful in a relationship with you right now.'" Cool! Normal! A very nice guy!
Though she's declined to speak about the breakup thus far, a source close to Madix told People they were "fully together" when Sandoval's affair with Leviss was exposed.
Fortunately, a few fellow Vanderpump Rules castmates weighed in post-interview—which culminated in Mandel shaving Sandoval's mustache, by the way: "It's not that I don't dig Howie Mandel. Dope, cool, got it, whatever, but what a weird fucking first interview," Lala Kent said via Instagram stories. Jax Taylor, Sandoval's former friend and castmate, also had some thoughts on the appearance: "There's no justifying cheating. Take it from someone who's been down this road. You own up to what you've done. Be a man."
For what it's worth, Mandel's co-host and daughter was rather optimistic about life for Tom post-#Scandoval: "I think you'll be fine," she told him. "If Michael Vick could go back to playing football, if Chris Brown can go back to…" Unfortunately, she's probably right. After all, that's Bravo, baby!