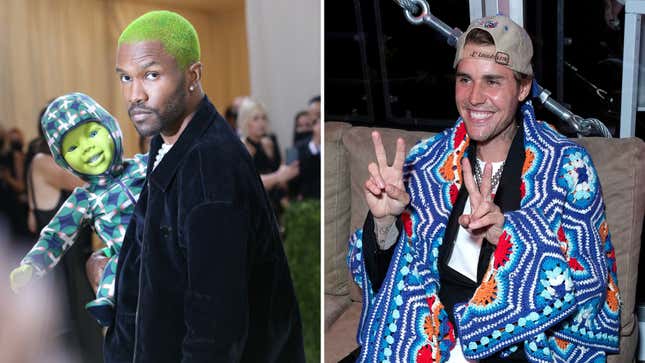 Well, well, well my friends, it appears we have a bit of a dustup in the aftermath of Coachella 2023's first weekend, and it's not just the celebrities' middling outfits.
Jennifer Aydin Had Women DMing Her After Relatable Cheating Scandal
It all began with the anticipation of Frank Ocean's headlining Coachella performance on Sunday. Ocean had initially been slated to headline the festival in 2020, but that appearance was canceled due to the onset of covid. Fast-forward to 2023, and Ocean was back on the schedule, set to give his first live performance in more than six years.

Instead of an explosive return to the stage, fans were met with what looked like a half-assed contractual obligation. Ocean was panned online for starting an hour late, skipping many of his well-known songs, performing mostly sitting down and with his back to the crowd, and lip-synching to some of his tracks, according to Variety. Because of the late start, his set ended after less than 90 minutes, cut off by the Coachella curfew.

But sources told Variety that Ocean had, in fact, planned the explosive return to stage fans had been hoping for…only to scrap the concept hours before the set. Production was set to construct a massive ice rink onstage and had gone so far as to hire ice skaters to skate around Ocean as he sang. The crew reportedly rehearsed for several days in the leadup to the festival. A source told Vulture that Ocean injured his ankle during rehearsals, forcing the crew to quickly pivot. But couldn't my man have just sat in the middle of the ice rink and let the professional skaters do their thing? That at least would've been far more entertaining than watching a man sit and sing for an hour and a half.

At this point, those in attendance were furious that the highly anticipated set has given them…not much. Enter Justin Bieber, stage right! Bieber the believer was apparently in the crowd that night and felt the need to come to Ocean's defense in an Instagram post: "I was blown away by Frank Ocean's Coachella performance," Bieber wrote. "His artistry is simply unmatched, his style, his taste, his voice, his attention to detail…I was deeply moved. It made me want to keep going and get better as an artist. He continues to set the bar high and gave me a night I will never forget! Thanks Frank."
Very kind of a fellow famous person to take the time to say, essentially, game recognize game. BUT! A video making the rounds on TikTok shows Bieber with his eyes closed and barely moving while listening to Ocean's performance of "At Your Best (You Are Love)."
"It's past his bedtime" the caption reads, while the text in the video says "not justin bieber asleep @ the frank set." How could one be so "deeply moved" that they fall asleep in the middle of Coachella? Also, have you been? Those speakers are top-notch and everything is loud.
As many of the smarter users of TikTok pointed out, Biebs is deeply religious, so he could've been either "moved" to another plane of consciousness, praying, or simply tuning out the piercing shrieks from fans around him. To add another foil in the sleepy Biebs theory, last year Bieber canceled the remainder of his "Justice" tour amid his battle with Ramsay-Hunt Syndrome, which is a neurological disorder characterized by facial paralysis.

To summarize: disappointing Frank Ocean set, sleepy Biebs that was probably not sleepy, fans jumping to conclusion, drama in the desert! Happy Coachella little freaks!

---