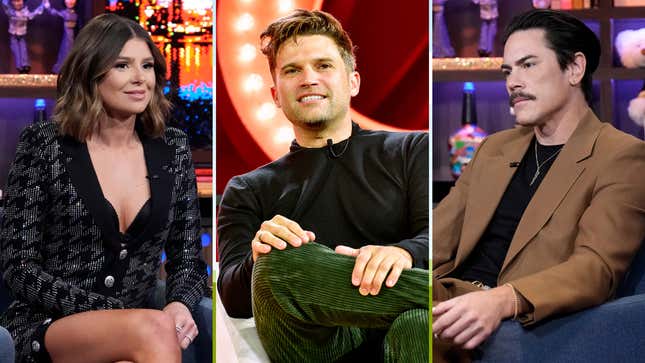 Just when you thought the embarrassment of reality television show riches that is #Scandoval couldn't get any more indulgent, Vanderpump Rules' star Tom Schwartz just divorced-guy shuffled by the Bravo clubhouse and proceeded to drop bombshell after audible gasp-inducing bombshell about his fellow castmates' affair. Hold onto your pump-tini (or, pump-tea-ni?), because we're going on a joyride.
Raquel Leviss Told Us 'I'm Like, A Good Person' Just 48 Hours Before #Scandoval
On Wednesday night, during an appearance on the Andy Cohen-helmed, Watch What Happens Live, Schwartz made perhaps the strongest case for mandatory media training in Bravo history as Cohen grilled him about his castmates' Tom Sandoval and Raquel "Rachel" Leviss liaison—or, by his description, "an infatuation of infatuations."
"Raquel is Tom's heroin," Schwartz divulged, citing Sandoval's ADHD and tendency to form obsessions (never forget the sidecar!). "He's addicted." In typical Schwartz fashion, he then went on to clarify that he hoped he wasn't trivializing actual addiction.
Then, Cohen asked when exactly Schwartz discovered the affair: "I learned about the affair in August," he said, adding that he was under the impression it was only a one-time thing following some goading from Cohen. "The one-night stand was in August and then it became, from my point of view, it became an emotional affair. Which is still inappropriate but I didn't think it was linear. [Then] in January, he came to me and told me that he was in love with Raquel."
Now, I really must interject to point out that according to Schwartz' timeline, Sandoval and Leviss hooked up sometime around the wedding of their castmate Scheana Shay, which took place on August 23, 2022. Two of the most recent episodes of Vanderpump Rules have followed the events of Shay's wedding, including Schwartz—very clumsily—making out with Leviss. Best case scenario: Leviss is fond of some lite homie-hopping. Worst case scenario: Sandoval and Leviss deployed Schwartz as a decoy to distract from the fact that it was them playing tonsil tennis all along. In response to rumors of the latter: "I was not acting as a decoy," Schwartz clarified. Uh-huh.
In addition, let's revisit January 2023, shall we? Just after #Scandoval broke, Bravo sleuths on TikTok pointed out that Leviss inexplicably accompanied Sandoval and Schwartz on a trip to Big Bear at the end of January, which also matches Schwartz' timeline. Nothing says "I love you" quite like bringing girlfriend #2 on what was ostensibly a boys' trip, am I right? For emphasis, Sandoval was still very much in a relationship with his partner of nine years, Ariana Madix, at this time. Back to Schwartz' many spills!
"Tom kind of got flagrant. He was brazen after he told me he was in love. It was like a release for him," Schwartz continued, claiming that his best bud told him he'd "broken up" or "attempted to break up multiple times" with Madix. "He told me he has a game plan, that he's going to do the right thing, and he just continued to procrastinate."
In the wake of Sandoval's affair with Leviss being exposed, Schwartz told Cohen that Sandoval is "a shell of himself" and that he's yet to realize the impact it's had on his business ventures. Notably, the impact it's had on Madix was only an afterthought. "If you see him, maybe give him a hug even if he doesn't deserve it," Schwartz instructed viewers toward the end of the taping. "Give him a hug. He's down bad."
Honestly, I think I'd much rather heed the advice of his co-star, Lala Kent: "We're atomic wedgie-ing his ass. We're punching him straight in the dick."
---