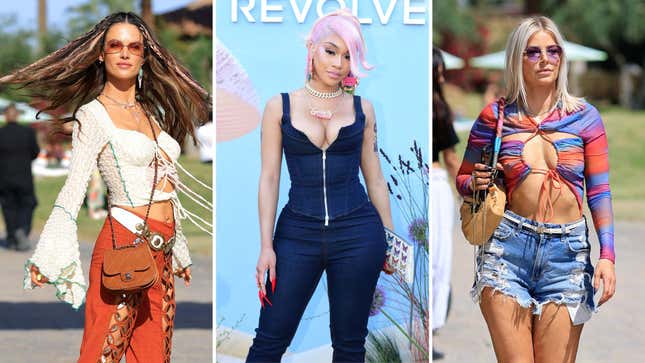 Like an ex determined to creep back into your life after you've muted them on every existing social media channel, I regret to inform you that Coachella has yet again seeped into the public consciousness against our will.

Once a fever dream for hypebeasts and founding Instagram influencers alike, Indio's historic music festival now feels more akin to a spon-con-apalooza than a legitimate cultural event. But that doesn't mean we can't get our regularly scheduled voyeurism programming on! The festival's first weekend, which featured global artists like Bad Bunny, BLACKPINK, Rosalía, Becky G, Charli XCX, Sofi Tukker, and more, gave us sweet revenge, romantic reunions, Post Malone playing the acoustic guitar, and Bad Bunny on a jet ski.
If nothing else, Coachella's annual romp in the desert always promises a spectacle of attempted taste, regrettable decisions made beneath the shade of the Sahara tent, and early-onset tendonitis.
So please, join us as we recount the (mostly) painfully mid-looks and mourn celebrities' ability to ruffle some palm leaves. We will be blowing our vape smoke exclusively up the asses of those who did the desert deliciously dirty (I counted four). All other attempts at fashion shall be shunned to the non-VIP sections of the festival.