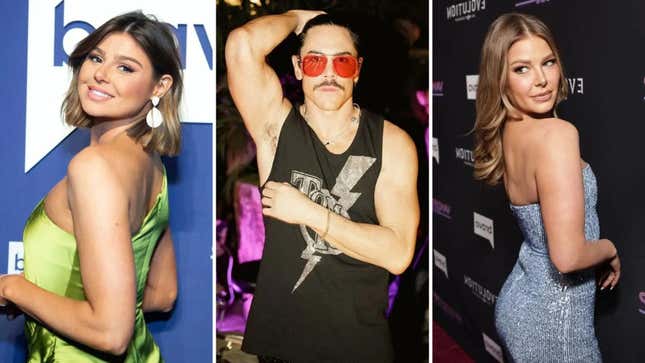 On Wednesday, the G/O Media offices received a special visit from Vanderpump Rules stars Scheana "Good as Gold" Shay and Rachel "Raquel" Leviss as they promoted the popular series' newest season. The former gifted me a pair of false eyelashes from her brand, Viva Verano; Leviss told my colleague she looked "cute" in the bathroom; and it all felt like the best days of our lives. That was until some 48 hours later...

Raquel Leviss Told Us 'I'm Like, A Good Person' Just 48 Hours Before #Scandoval
On Friday, TMZ broke the news that their fellow castmate, restauranteur, and aspiring musician Tom Sandoval had allegedly cheated on his partner, fellow castmate and mixologist Ariana Madix, of nine years with none other than...Leviss! Naturally, given Vanderpump Rules is a long-running series on the network with a cult-like following and its ensemble cast are actually friends, there was instantaneous bedlam in the Bravoverse. But what's become known about the alleged affair, dubbed #Scandoval, in the following days? Well, let's just say it's the stuff of network history.
Given the conflicting reports and outpouring of reactions—including that of Bravo superfans Chrissy Teigen and Chrishell Stause—it's only right that we try and make sense of it all. Keep up!
Even though Madix promptly deleted her Instagram in the immediate wake of the TMZ report, her castmates quickly rushed to her defense on the platform. In a since-deleted Instagram post, Leviss' ex, James Kennedy, wrote: "Hope you all feel as sick as I do. This explains everything." Lala Kent then chimed in, commenting: "I've been telling y'all! Everyone said I was a 'bully.' It's called YOU TRIGGER ME AND I SEE YOU FOR WHO YOU ARE! I've known these to are disgusting from the jump." Madix's brother, Jeremy, who's appeared on the show, also had some thoughts...

The night the news broke, former castmate Kristen Doute and current members of the ensemble Katie Maloney and Shay were photographed arriving at the home Madix and Sandoval once shared (with bottles of wine in tow), as #TeamAriana began spreading across social media.
And as only she could, Kent showed her allegiance to Madix another way: vowing to "torch" Sandoval and Leviss via Instagram video. "This is so fun, I usually don't get involved but now I am activated," Kent told her followers. "I am activated as fuck. Now that I have consent from Ariana… blowtorch, gasoline, grenade launcher, it's all ready." Sandoval, meanwhile, played a gig with his cover band in Anaheim and reportedly fielded "cheater!" chants from the audience.
On Saturday, TMZ posted another bulletin, claiming Madix discovered the alleged "full-on affair" after finding explicit video from Leviss on her partner's phone, which culminated in a confrontation. Though there have been conflicting reports, Page Six reported that after Shay and Leviss taped Watch What Happens Live—just hours after Jezebel's interview with the pair—Madix allegedly called Leviss and confronted her about the video, to which the former pageant girl confirmed she and Sandoval had been carrying on behind her back for a while. How long? Months, allegedly.

"This has been going on for upwards of 6 months—all the while, Tom was sleeping next to Ariana in bed," a source told People. "She was completely blindsided by this; devastated doesn't even scratch the surface of how she feels."
It gets messier: The rumor, according to DeuxMoi and seemingly substantiated via Leviss' sister on Twitter, is that Shay—a longtime Madix ally—was so enraged upon finding out about the alleged affair that she allegedly gave Leviss a black eye.
"Scheana was furious," a source told People. "She and all the Vanderpump Rules costars have rallied around Ariana during this time. They can't believe Raquel would do something like that."
Now, before I continue, I'd like to note that in my interview with Leviss, she said the following: "Not to like, toot my own horn, but I feel like I'm a really nice person." Just keep that top of mind as you read on.

Because the Bravoverse is comprised of borderline investigative journalists, several videos of Leviss supporting Sandoval's cover band (which, by the way, sounds like the musical stylings of a semi-talented person at a karaoke bar) dating back months have emerged in the last few days. One of which even shows her seemingly taking in a show alone.
Even the network's top banana, Andy Cohen, made a disturbing observation at Sandoval's BravoCon performance back in October: "I was at that show, and I'm standing there, and Raquel's standing behind me, and Ariana's in front of me, and you can see how they're both looking at Sandoval. It's wild," Cohen said on Monday's episode of SiriusXM's "Andy Cohen Live."
And as if Leviss' near-perfect attendance at Sandoval's shows doesn't raise suspicions, there's also a video of Sandoval supporting Leviss as she competed in a beauty pageant, and another that reveals the latter on his shoulders at a music festival.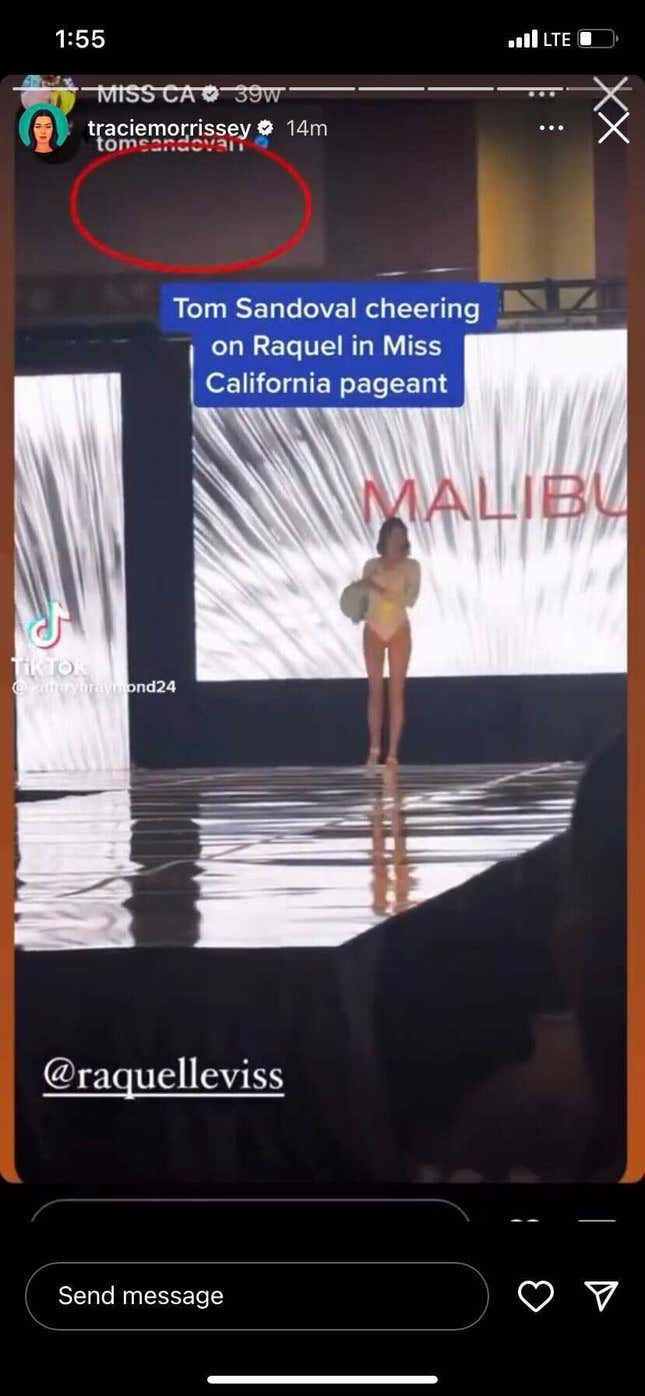 A Reddit post has also begun circulating among fans. According to the post, a friend of Leviss' alleged that the pair have already exchanged "I love you's" and matching lightning bolt necklaces—the latter of which has been documented.
While Madix and Leviss have yet to comment on the matter, Sandoval addressed the scandal via Instagram on Saturday. His castmates were quick to note that nowhere in his predictably lame notes app apology did he apologize to, or even directly acknowledge, his former partner.
Meanwhile, sources told People that all of this delicious fallout had been caught on Bravo cameras. A "tense sit-down" between Sandoval and Madix was reportedly filmed on Friday.
"Ariana walked away from the conversation feeling like she was gaslit by Tom," a source told Page Six. "Tom said he didn't tell her about the affair with Raquel because he was worried about how it would impact her mental health, even claiming that he was especially concerned after her grandma died last year."
Madix has since been spotted flashing a middle finger to paparazzi camped outside their home, while her ex was caught ripping a cigarette. Frankly, I'd have one too if I were the new most-hated man on Bravo. As real fans know, when it comes to the impropriety of truly epic proportions, it's always about Tom.

Watch this space!