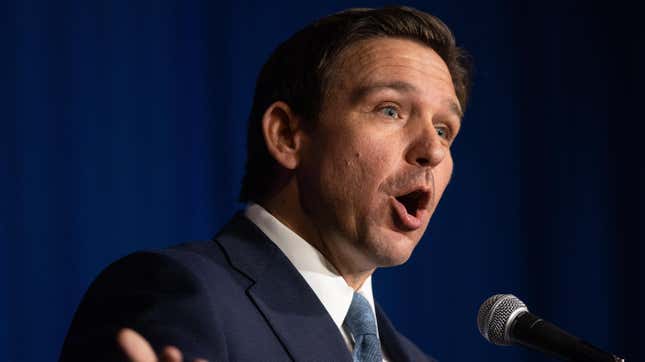 Republican mega-donor Thomas Peterffy told the Financial Times this weekend that he's pausing his plans to fund Florida Gov. Ron DeSantis' (R) inevitable 2024 presidential campaign, which DeSantis still hasn't formally announced. Given Peterffy's aforementioned Republican mega-donor status, his reasoning for this may surprise you: He cited DeSantis' crusade against abortion and zest for banning books in classrooms.

Uterus Weekly: 15-Week Abortion Bans
"I have put myself on hold. Because of his stance on abortion and book banning … myself, and a bunch of friends, are holding our powder dry," he told the Times, while also observing that DeSantis "seems to have lost some momentum." (That sure seems like coded language for "I heard this man eats pudding with three fingers," to me.)
DeSantis has famously signed the comically stupid Stop Woke Act to try to pull books with LGBTQ characters and themes, as well as books that address racism in America, from classrooms. And last week, he signed a six-week abortion ban, which has been widely protested as a total abortion ban, as it prohibits the health service before many people would even know they're pregnant. The bill has also drawn the very public ire of California Gov. Gavin Newsom (D) and Rep. Alexandria Ocasio-Cortez (D-N.Y.), a survivor, for requiring that victims provide official documentation of their rape to access its rape exception.
One can fairly easily surmise that DeSantis signed these bills to bolster his right-wing credentials ahead of entering the Republican presidential primary; abortion rights advocates in Florida have certainly argued as much. But Peterffy's vague, at least temporary withdrawal of promised financial support for DeSantis could hint at a budding problem for anti-abortion Republican candidates. As the New York Times' Maggie Haberman put it: "A major donor finally goes on record with what has been a whisper: donors are getting worried."
Yet, simultaneously, large anti-abortion groups like Students for Life have fully embraced anti-abortion extremism and are framing it as a requirement from candidates to garner their support. In a Facebook post last week, the group called DeSantis' six-week ban "the minimum standard" for anyone who wants their support and suggesting the Florida ban doesn't go far enough: "We will always continue to advocate for #ProtectionAtConception," the post states. There's a growing tension between what anti-abortion activists are demanding of Republican leaders, and what clearly is and isn't viable for the party as voters are repeatedly, decisively making clear how much they hate abortion bans. Spoiler alert: Abortion bans are wildly unpopular.
Still, for all Peterffy's bluster on DeSantis, the Guardian notes that he left a lot of room to backtrack in the near future. Instead of stating that he's no longer backing DeSantis, period, Peterffy said he's "more reluctant to back [DeSantis]," and is "waiting to see who among the primary candidates is most likely to be able to win the general."
Honestly, it's comical that this is where Peterffy chose to draw the line. Even before DeSantis signed the six-week ban, he signed a bill last year quite literally prohibiting LBGTQ+ identity from being referenced in classrooms, as well as a 15-week ban that's resulted in many Floridians—particularly minors and rape victims, according to doctors in the state—being denied care.
Peterffy seems to buy into the notion that some abortion bans can be more or less extreme, that there's room for compromise. It's a notion shared by new Republican presidential candidate Sen. Tim Scott (R-S.C.), who last week expressed support for a national 20-week ban, and Rep. Nancy Mace (R-S.C.), who's called for a more "moderate" stance on abortion from her party, through supporting rape exceptions to abortion bans and increasing access to contraception. And once again I find myself tapping the sign: There is no such thing as a "moderate" abortion ban or a "compromise" on whether the state can force us to remain pregnant or give birth. If Peterffy chose to bank-roll Tim Scott, he'd be just as complicit in enabling anti-abortion extremism.