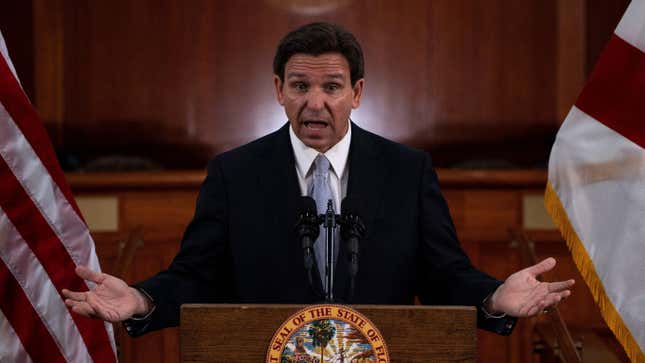 Not that long ago, Florida was considered a true swing state. Now it appears very likely that the state will ban abortions after six weeks of pregnancy—or two weeks after a missed period, if people's periods are regular. What on earth happened? Well for starters, the Supreme Court overturned Roe v. Wade, opening the floodgates for barbaric laws like this one. But also it's clear to anyone paying close attention that Florida Gov. Ron DeSantis (R) wants to be president. Abortion is already banned after 15 weeks in the state, but DeSantis has been getting public criticism for not going further, so he's simply doing what he believes he needs to do to get his ass in the Oval Office.
UterUs Weekly: February 11, 2022
Lawmakers introduced the six-week abortion ban—House Bill 7 and Senate Bill 300—on Tuesday, just moments before DeSantis' state of the state address. He didn't address the bills in the speech, but he did say, "We are proud to be pro-family, and we are proud to be pro-life in the state of Florida." He told reporters afterward, "Like I said, we welcome pro-life legislation."
He was much more clear when asked about a potential six-week ban in February: "I've urged the legislature to work, to produce good stuff, and we will sign."
Republicans have a supermajority in both legislative chambers and if the measure passes, yes, DeSantis will absolutely sign it, if only to help his own career.

"This near-total abortion ban has nothing to do with what is best for Floridians and everything to do with Ron DeSantis' ambition to be president and what he thinks Republican primary voters want," Laura Goodhue, executive director of Florida Alliance of Planned Parenthood Affiliates, said in a statement. "Politicians have no business meddling in these deeply personal decisions and pushing these outrageous abortion bans."
Centering DeSantis' ambition is the lens through which people should view literally everything he's doing right now, from banning books, to banning transgender healthcare, to banning diversity initiatives and entire majors at state colleges.
This aggressive abortion ban would be devastating for Floridians and others in the region, as Florida has become a critical access point in the Southeast, even with its 15-week ban: Out-of-state abortion seekers increased by almost 40 percent from 2021 to 2022. Kris Lawler, the Tampa Bay Abortion Fund board president, said in a statement that TBAF anticipates at least 90 percent of its callers would have to leave Florida for abortions if the bill becomes law.
The months and years may change, but conservatives will continue to use their own residents' lives as political pawns.