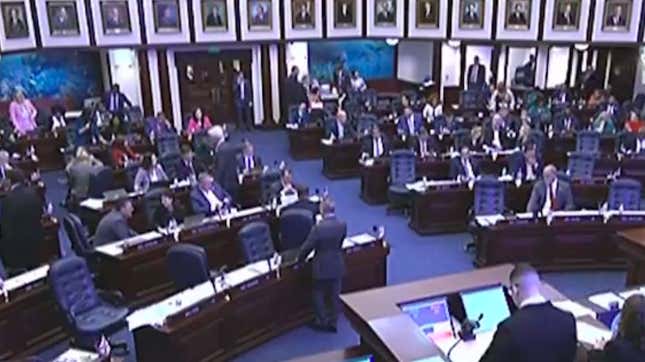 Florida lawmakers voted down an attempt to add an exception for a life-threatening medical condition on Thursday—days after devastating reporting that a Black woman with the condition miscarried in a hair salon bathroom and nearly bled to death. It is currently Black Maternal Health Week. The vote came during the Florida House's debates over whether to send a six-week abortion ban to the desk of Gov. Ron DeSantis (R), who has indicated he'll sign it.
Republicans Pull Out All the Stupid Stops While Debating Abortion
A Washington Post story detailed how, in December, Anya Cook's water broke at 16 weeks pregnant, much too early for a fetus to survive but after the state's ban on abortions at 15 weeks. She went to the ER, where the doctor said she was experiencing a rare complication called pre-viability premature rupture of the membranes, or PPROM. The treatment for PPROM when water breaks that early is to induce labor or perform an abortion, but the fetus still had a heartbeat so the hospital refused to do either, citing the state law.
The ban has a health exception that claims it allows abortions after 15 weeks in order to "save the pregnant woman's life" or "avert a serious risk of substantial and irreversible physical impairment of a major bodily function." But hospital lawyers worried about getting sued may interpret that as meaning a pregnant person has to be dying on the table in order to end the pregnancy.
State Rep. Robin Bartleman (D) introduced an amendment on Thursday to add an exception for PPROM and other life-threatening conditions to the six-week abortion ban, and it failed in a party-line vote of 33 to 80.
Here's a clip from Bartleman's remarks:
Lawmakers were voting on more than 50 amendments from Democrats as protestors descended on the Capitol building:
State Rep. Angie Nixon (D), a Black woman, asked the sponsor of the six-week ban—State Rep. Jenna Persons-Mulicka (R), who is white—if she was concerned that the bill would worsen health disparities for Black women. Persons-Mulicka said no. Once again, it is Black Maternal Health Week, which highlights how Black women are more than three times more likely to die from pregnancy than white women.
Republicans in the Florida legislature appear not to care how many people die or come close to death, they simply want to launch DeSantis into to the 2024 presidential primary.